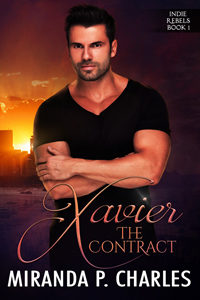 Did you get to read chapter one of Xavier: The Contract yesterday? Hope you enjoyed it.
Here's chapter two for you to check out.
Xavier: The Contract Chapter Two
Eve Marrin left the juice bar and instantly turned her head to the direction of A to X Fitness. She inhaled deeply at the sight of the dark-haired, muscular guy walking back inside the gym after saying goodbye to the older man with him.
Xavier. What a handsome hunk.
She slurped on her smoothie with a pout, regretting now that she hadn't agreed to have coffee with him. It wouldn't have hurt, since he clearly didn't know her. This was Sydney, not Adelaide. The statewide evening news in South Australia, on which she was a popular anchor, didn't get shown here. She was a virtual unknown in this town, so Xavier couldn't be like her ex-boyfriend, who'd used her profile to boost his own business, all the while sleeping with his secretary. Nor was Xavier like one of the men who'd stopped her on the streets of Adelaide, trying to chat her up because they'd watched her every night on TV.
That was why Xavier was such a breath of fresh air. Not once had she felt she needed to question his reasons for wanting to get to know her. It was… so much fun. And she hadn't felt like that in a long while.
Admittedly, she'd been having a hard time trusting men's motives since breaking up with her cheating ex. Her family and some friends had been encouraging her to enjoy life more. They were concerned that she was already jaded at only twenty-nine, with a job that entailed reporting on negative, shocking and horrendous news almost every day. Her parents had even warned against applying for the Your Eyes and Ears role, considering how hard-hitting the top-rated Australian public affairs program was, with its fearless coverage of scammers, shonky service providers, and the like. They worried it would suck the light out of her.
But she didn't see that role as light-sucking. Yes, the show played up the sensationalism, but it provided a service to the country and to would-be victims of scams and crimes. Eve hadn't been able to save her Aunt Tammy, but she'd love to have the opportunity to save other people from becoming prey to heartless predators.
She blinked back the tears that immediately surfaced at the picture that popped in her head: her Aunt Tammy, unconscious in her own bathtub, with an empty plastic bottle of sleeping pills floating on the water.
Eve had never screamed so loudly in her life, and she couldn't remember how she'd managed to drag her aunt out of the tub and onto the bathroom floor. Fortunately, Eve's apartment wasn't far from a hospital, and paramedics had arrived within minutes. They'd found her giving CPR to her aunt and taken over. But even then, they'd been too late.
A year and a half on, Eve still burned with anger at the man who'd driven Tammy to do the unthinkable. Everyone in the family had been aghast to learn that Tammy had given all her life savings to her then-boyfriend, who'd turned out to be a conman who'd already stolen hundreds of thousands of dollars from other lonely women. If it hadn't been for Tammy's suicide note, no one would have known the truth about the scoundrel.
Eve dabbed the corners of her eyes with a finger. Unfortunately, the lowlife scammer who'd destroyed the lives of several ladies was still at large, his true identity unknown. He apparently used several aliases, so who knew exactly how many women he'd victimised?
That was why Eve had applied for the Your Eyes and Ears role. She couldn't think of a more worthwhile career than helping expose tricksters so they could eventually be caught.
She felt her watch tap her with an incoming call, and pulled out her phone from her bag. "Hi, Dad."
"Hi, Eve. Where on earth have you been?" Lionel asked softly. "I've been trying to reach you all morning."
"Sorry. I was with a friend, then I went to a gym." Speaking of gyms… She turned around and started heading back to A to X Fitness. Why not have a drink with Xavier to cheer her up? She'd need it after this phone call.
"You know I needed to speak to you urgently."
Eve rolled her eyes. No way would she let her father risk losing any money in a questionable investment promoted by his new bowling buddy. "What do you mean?" she asked innocently.
"You know what I'm talking about. I'm really keen to invest in the property development scheme Scott's in. He needs an answer right now because they're meeting with the bank this afternoon."
"I'm sure there'll be other, much better investments for you to consider." She dearly loved this man who'd adopted her when she was twelve—two days after Lionel had married her mother. But she worried he hadn't done enough due diligence on this investment.
"I know you're only trying to look out for us," Lionel said gently. "But I truly believe Scott is trustworthy. You should meet him one day."
Yes, she'd love to meet Scott one day and suss him out. But she simply feared her dad was starting to get desperate for a source of income since the dry-cleaning business he and her mother had run for fifteen years had finally folded, and he was still out of work. Her mum's current job in the supermarket was only enough for the couple's living expenses, forcing them to dip into their savings to pay for outstanding business debts. Going into what appeared to be speculative investment wasn't the answer.
And call her cynical, but she still wasn't satisfied that it wasn't a scam. Fortunately, Lionel couldn't go ahead with it without her help.
"So," Lionel said, "will you lend me the twenty-five grand? Please? I'll pay you back with interest."
"Sorry, Dad. I trust you, but I think Scott's not giving you enough time to fully consider his proposition."
Lionel let out a heavy sigh.
"But if you guys need some cash," she added hastily, "I'm more than happy to lend you some. As long as you promise none of it is going towards this investment Scott is selling to you."
"No. We're still fine, so far. I just want to do something so your mother and I won't have to rely on you in the future."
"I know. I appreciate that. But that investment is not it. Please trust me on this. It's literally too good to be true."
"Okay, fine. I'll tell Scott I don't have the funds. I won't tell him you don't trust him, though. He's a good friend who keeps asking about how you're doing."
"Okay." She'd rather her father wasn't friends with this Scott person, but she'd keep her mouth shut about it for now.
"Will we see you on Sunday when you get back?"
"Sure. We'll have dinner together."
"Good. We'll cook. I don't want you taking me and your mother out again. We can't afford to return the favour at this point."
"Dad, you know I don't mind," she said with censure. What proud, stubborn folks.
"That's not the point. Anyway, see you soon, darling. Bye for now."
"Bye. Kiss Mum for me."
"Will do."
She'd just hung up when her phone vibrated with another incoming call. She frowned at the unfamiliar number. "Hello?"
"Hello, Eve?"
"Yes?"
"It's Chester Blunt. Did I catch you at a bad time?"
Her heart skipped. The co-host of Your Eyes and Ears was calling her! "Hi, Chester. No, this is not a bad time. I'm free to talk."
"Good. I was speaking with Aaron and Jody about your interview with them the other day. I was wondering if you're available for another interview at three this afternoon?"
Her heart beat faster. "Yes, I can make it."
"You're staying at Macleay Street in Potts Point, right? At the building right across the road from the fountain?"
"Yes." She loved that Airbnb place she'd found online. The price was extremely reasonable for the location.
"I'll pick you up by the bus stop in front of your building in two hours."
"O-kay," she said slowly, confused. "We're not having the interview at the station?"
"No. This is kind of an unofficial interview. I'm not supposed to tell you this, because nothing's been announced, but Aaron's not so sure about you for the job because they think the other candidates are better suited."
Eve's heart sank, although she wasn't surprised. Aaron Adler, the program director of Your Eyes and Ears, hadn't looked enthused when he'd interviewed her. She guessed that while she was successful enough to anchor a statewide evening news program, she wasn't a recognisable face outside of South Australia. The other candidates were probably vastly more popular than her and already had a following.
"I disagree with Aaron," Chester said. "I don't think your lack of profile compared to them is a big issue. Your Eyes and Ears already has a strong following in the over-forty demographic because of me and Veronica. With Veronica's imminent departure, this is the opportunity to have a co-host who could pull the younger demographic into the show. Besides, I believe you're closest to having Veronica's on-screen presence. Your compassion and strength shine through with just your delivery."
"Thank you," she murmured.
"Fortunately, someone else seems to agree with me—Trevor Clarence. Have you heard of him?"
"I'm afraid I haven't."
"I'm not surprised. His legal entity owns sixty percent of our production company. He's originally from Adelaide and spends half of his time there, so he's familiar with you. He wants to see you before he decides if he'll lend his weight to your case."
Eve's mouth dropped. Had she heard him right?
"So what do you say?" Chester prompted.
"Yes, of course. I'll be waiting by the bus stop at three."
"Great. We're going to his house. That's where he'll meet us."
"Okay, thank you, Chester. I really appreciate this."
"My pleasure. I really believe in you. My gut tells me you're the best choice as Veronica's replacement. See you soon."
Eve took a huge breath as Chester hung up. Wow. That was totally unexpected. And incredibly exciting.
She should go and do some Googling on Trevor Clarence. But that meant not having time to go back to A to X Fitness. Pity.
But then, again, she still had a chance at the Your Eyes and Ears co-host role. She might be moving to Sydney. And she'd promised Xavier a date if she did.
She grinned. A promise was a promise.
* * *
"We're here," Chester said.
Eve stared at the imposing gates of Trevor Clarence's Vaucluse home while Chester pressed a button on a security panel to announce their arrival. The solid metal gate slid slowly to the side, giving Eve her first glimpse of the long driveway and the breathtaking mansion standing proudly at the end of it.
She took deep breaths to calm down her nerves, which had increased exponentially.
The details she'd found online about Trevor Clarence were scant—strange for a person who was clearly very wealthy. A couple of websites did suggest that he was an extremely private individual who shunned media attention, and that the guy had sold his multimillion-dollar IT company three years ago. At fifty-five, he'd chosen to retire from "the daily grind". He still held a financial interest in the company that produced Your Eyes and Ears and owned a couple of commercial properties.
She'd tried to find out more from Chester, but Chester hadn't been forthcoming, only stating that he'd prefer to let Trevor himself answer Eve's questions.
Anyway, here she was, feeling unprepared for her meeting with the person who could change the course of her career. It still stunned her that Trevor Clarence was extending an opportunity to her that he hadn't appeared to have offered to the other candidates. Even if she didn't get the job, she was already grateful for the boost this gesture had given her.
"Impressive, huh?" Chester said, staring up ahead at the house as they slowly drove towards it.
"It certainly is. So is there anything else I should keep in mind before I meet him?"
Chester shrugged. "He's really easy-going, so just call him Trevor, not Mr. Clarence. And have at least one glass of wine. He's a wine connoisseur and very proud of his collection. He loves opening hundred-dollar bottles for his guests and expects them to like them as much as he does."
"Wow." She doubted she was considered a guest, though. She was only here for a job interview.
Soon they were parked by the double front doors. Two men in black suits, clearly security personnel, were waiting to welcome them. They were rather good-looking.
But not as hot as Xavier.
She hid her smile at her thought. Handsome as the security guys were, they definitely had nothing on Xavier.
"Good afternoon," said one of them as he helped Eve out of the car.
She smiled her thanks. "Good afternoon."
"Trevor's ready to meet with you," said the other, pushing one of the front doors open. "I'll take you to him."
Eve glanced at Chester as they followed the man inside. Chester didn't seem to know the security guys, so he probably didn't come to his house that often.
Her nerves came back. Had she really made that much of an impression on Trevor Clarence? She was finding all this a little surreal.
They turned a corner and arrived at a big open-plan room tastefully furnished with a leather lounge set, a ten-seater dining table and an amazing kitchen with a huge island. The wide bifold glass doors leading to a balcony were closed—probably due to the cool weather—but the sky was clear outside, and the views of Sydney Harbour were magnificent.
A blond man in casual clothes placed the wine bottle he was holding on the coffee table and walked over to them with a smile.
Eve recognised him as Trevor Clarence. He looked a tad older than the picture she'd seen on the internet.
"Hello, Eve," Trevor said, extending a hand. "Pleasure to meet you."
"The pleasure's all mine, Trevor. Thank you for this opportunity."
"You're welcome." Trevor greeted Chester, then gestured for both of them to take a seat on the sofa.
"So, Eve," Trevor said, grabbing the bottle of red and pouring the wine into three crystal glasses, "I heard that Aaron doesn't think you're suitable for the role."
She smiled. "He did give me that impression during my interview."
Trevor chuckled. "Well, for me, you have the most charisma out of all the candidates. While you all passed the on-screen chemistry test with Chester, I think you're the most capable of making the viewers feel with you. To me, that's of primary importance with shows like Your Eyes and Ears. I've watched you enough to know you can be straight to the point and hard-hitting, but you also have a soft side that can elicit empathy. There's no point to the show if the hosts can't make the viewers care. You might not have the kind of following the others already have, but I do believe you'll pull in new viewers that the show hasn't been able to reach before. You're younger and certainly a fresh face—no offence, Chester."
"None taken. Fifteen years on the show will give you these lines." Chester touched his forehead.
Eve chuckled along with Trevor.
"Anyway," Trevor said, "I believe that with the right platform, you'll easily draw in more of your own following. In a nutshell, I think Your Eyes and Earsneeds you, and you need it in return. Which is why you're the perfect co-host for the show."
Gratitude surged within Eve. This sounded promising. "Thank you," she murmured.
Trevor handed them their wine. "Cheers."
Eve clinked her glass with the men's and took a sip. "This is beautiful," she said.
Trevor beamed. "Glad you like it. Carmichael Shiraz 1999."
"Yes, exceptional," Chester said, before taking another big gulp.
"Have some cheese and crackers," Trevor offered, indicating the tray on the coffee table.
Chester didn't hesitate, placing a large chunk of camembert on a cracker and popping the whole thing in his mouth.
Eve reached over and cut herself a smaller slice, aware that Trevor was scrutinising her. She ordered herself to relax. One thing she'd learned was not to look intimidated, no matter how she felt inside. In a competitive industry, the one who didn't wither under bold inspection earned respect.
"Why Your Eyes and Ears, Eve?" Trevor asked after a long moment. "Is it because it's the number one public affairs program in the country?"
"That did influence my decision a great deal," she said, meeting his gaze. "But it wasn't my main reason. Frankly, I can't wait to personally shine the spotlight on heartless con artists preying on people who can't fight back against them."
Trevor cocked his head. "Do I detect more than a professional interest in this?"
Eve stared at her glass. "My aunt overdosed on prescription drugs a year and a half ago, after she lost her life savings to a man who befriended her in church, and proposed marriage within three months. She'd suffered from anxiety and depression for most of her life, and that pushed her over the edge. She wasn't the first victim of that con artist. He'd stolen hundreds of thousands of dollars in cash and kind from women whose hearts he'd also broken. While my aunt was the only one I know who took her life because of him, I'm sure he's destroyed the happiness and financial security of plenty others—and will continue to do so until he's caught. So…" She took a sip of her wine. "I honestly can't wait to help expose the likes of him to the unsuspecting public. I know that Your Eyes and Ears has also helped the police catch perpetrators when their victims found the courage to talk after seeing their cases on TV."
"I'm sorry to hear about your aunt," Chester murmured.
"Thank you."
"Well." Trevor reached for his phone and called someone. "Aaron, it's Trevor Clarence. How's it going?… Good… I have Chester and Eve Marrin here with me… Yes, Eve Marrin. I asked Chester to set up a meeting with her. Anyway, Chester and I believe that Eve is the best person to replace Veronica. I know you don't agree, but I'm asking you to reconsider… I know you're the program director, Aaron, and I do trust you, but I feel strongly that Eve is a great choice."
Eve could make out Aaron's voice on the other end of the line as he argued with Trevor.
"Look, how about you trial her out for, say three months?" Trevor said in a calm tone. "Promote her to the viewers as Veronica's substitute for the holidays, since she'd be starting in October and the three months would finish in December. If she doesn't work out, then replace her in the new year. I don't see a problem with that… Good, glad you like that idea… I'll leave it to you to arrange the paperwork and call Eve when it's ready to be signed… Perfect… Thank you, Aaron. Bye."
Eve gaped at Trevor.
"We haven't discussed remuneration," Trevor said to her, "but I don't think you'll be disappointed when you get your contract for a three-month stint. It's all up to you now. If you want the job permanently, you have to work extremely hard to impress Aaron."
Eve shook herself out of her surprise. "Thank you, Trevor. I won't let you down."
"I don't expect you to," Trevor answered smugly. "But don't announce this to anyone yet. Let Aaron run the timeline on when to let the public know who'll be replacing Veronica. Give him that, at least."
"Okay. My lips are sealed until then." She turned to Chester. "I want to thank you too. I'm so thrilled to be working alongside you."
Chester grinned. "You're welcome."
Eve relaxed in her seat. She had less than two months to organise everything, including resigning from her current job. She ran the risk of being jobless after December, but she wasn't going to worry about that right now. She intended to stay at Your Eyes and Ears permanently.
In the meantime, she could use the rest of the weekend to start her search for a place here in Sydney.
And see Xavier.
She breathed deeply. Perhaps she could see him before he found out who she was and what show she was about to co-host. Just for a change, she'd like to go out with a man who didn't seem to have any ulterior motives for wanting to go out with her.
"Now, Eve," Trevor said, "the anniversary of Ross Anton's arrest is coming up in two months. I've been very interested in his case, having been a former Stirling Mortgage Brokers client, myself. It might be a good topic for you to cover on your first day at Your Eyes and Ears. Personally, I'd like to hear from other past clients who still feel betrayed by Ross and the Stirlings. Just don't interview me for the show," he added with a laugh.
"That's a great idea," she answered.
She was familiar with the Ross Anton case, even though most of the happenings had occurred in Sydney. The flamboyant businessman's networking parties had been legendary, so when news of his arrest had come out, it had shocked many people. But the fact that he was also the business partner of Holly Stirling's parents had made his arrest viral.
Eve couldn't wait to do some research. She didn't know much about the Stirling family, as she wasn't a fan of Holly Stirling, but she'd love to investigate the possibility that Gerald and Adele Stirling had pulled the wool over the eyes of the public. She remained sceptical that they'd known nothing about Ross Anton's criminal side, so she couldn't wait to sink her teeth into this now. She'd been a mere observer of this case in the past.
But first things first. She'd ask Chester to drop her in the city on their way back. Hopefully, Xavier was still at work.
**End of Chapter Two**
Mark Tuesday, the 27th of February, on your calendar! Xavier: The Contract will be releasing then. Hope you're looking forward to it as much as I am.
In the meantime, you can preorder the book from the following stores:
Store link to Google Play will be available on release day.
Love,
Miranda xo