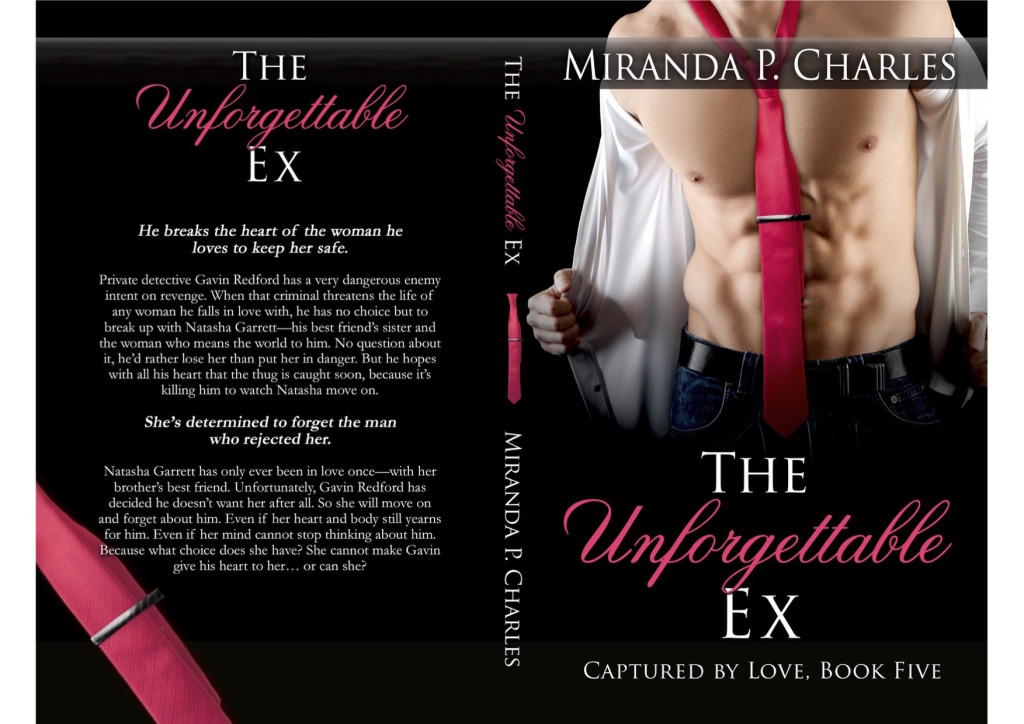 The Unforgettable Ex is here! You can now read about Gavin and Natasha's bumpy ride to their happily-ever-after. These two didn't have it easy–but their love for each other was something special.
You can get your copy from the following stores:
Amazon US | Other Amazon Stores | Apple iBooks | Barnes & Noble | Google Play | Kobo | All Romance Ebooks | Smashwords
Hope you enjoy the book!
The Unforgettable Ex Description:
He breaks the heart of the woman he loves to keep her safe.
Private detective Gavin Redford has a very dangerous enemy intent on revenge. When that criminal threatens the life of any woman he falls in love with, he has no choice but to break up with Natasha Garrett—his best friend's sister and the woman who means the world to him. No question about it, he'd rather lose her than put her in danger. But he hopes with all his heart that the thug is caught soon, because it's killing him to watch Natasha move on.
She's determined to forget the man who rejected her. 
Natasha Garrett has only ever been in love once—with her brother's best friend. Unfortunately, Gavin Redford has decided he doesn't want her after all. So she will move on and forget about him. Even if her heart and body still yearns for him. Even if her mind cannot stop thinking about him. Because what choice does she have? She cannot make Gavin give his heart to her… or can she?
*****
Much love,
Miranda xxx