(The Unwilling Executive, The Unyielding Bachelor, The Undercover Playboy)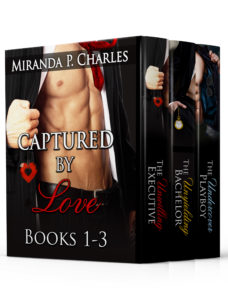 This boxed set includes Books 1-3 of the steamy, stirring and suspenseful Captured by Love series.
Book 1: The Unwilling Executive
Racing car mechanic Lucas Renner never expected his biological father to start acknowledging him as a son and only heir. He bet the old man has ulterior motives that has nothing to do with wanting to develop a relationship with him. He refuses to make contact with the man who has rejected him all his life… until his father's message is hand-delivered by a blushing beauty who stirs him in the right places.
Jade Tully thanks her lucky stars for her new role as the personal assistant to a wealthy CEO. Heaven knows she needs it. But she doesn't anticipate getting entangled in the personal conflict between her eccentric boss and his extremely hunky son–a man who rattles her poise and melts her heart. She wants to help bring father and son together. But if she continues to do her boss's bidding, would she lose Lucas's trust and her chance to capture his heart?
Book 2: The Unyielding Bachelor
Thirty-year-old entrepreneur Rick Donnelly is under contract to remain unattached until his fifteen-year-old half-sister turns twenty-one. If he breaks the rules, not only will he have to hand over the management of his half-sister's substantial inheritance to his reckless stepmother, but he'll also have to transfer twenty percent ownership of his company to the untrustworthy woman. When the tempting Lexie Mead decides to knock down his heart's defenses, he finds himself in danger of breaking the contract's strict conditions—something he simply cannot afford to do.
Lexie Mead has long had feelings for the hunky Rick Donnelly. Tired of being treated as just another one of his friends, she sets out to win his heart from prettier and more aggressive women admirers. But Rick has complications to deal with… and enemies who will do anything to see him fail. She doesn't want him to lose the things he's worked hard to keep. But how can they have a future together when she is forced to walk away and Rick can't ask her to stay?
Book 3: The Undercover Playboy
Undercover detective Carter Garrett is required to play the role of a cash-strapped playboy to solve an important case. When Cassie Stephens, his sister's beautiful friend, starts working in the art gallery owned by a suspect, his growing feelings for her threaten to blow his cover. He mustn't let Cassie in on the secret. It could ruin his team's best chance at catching a group of criminals whose leader could very well be Cassie's new boss. But when Cassie gets embroiled in the case, his heart joins in on the action–a dangerous situation he cannot allow to persist.
Cassie Stephens is ecstatic to land a high-paying job with perks anyone would envy. To her further delight, her new boss has business dealings with the charming Carter Garrett, her flatmate's hunky brother. Things between her and Carter heat up with surprising speed. But being aware of Carter's playboy ways, she orders herself not to dream of a future with him… until her new boss shares a secret about Carter she wasn't at all expecting. Everything seems too good to be true, but something tells her heartbreak and danger are not far away.
***
Each book in the Captured by Love series can be enjoyed on its own. For better enjoyment of the series, the author recommends reading the books in order.
Book 1: The Unwilling Executive (Lucas Renner and Jade Tully)
Book 2: The Unyielding Bachelor (Rick Donnelly and Lexie Mead)
Book 3: The Undercover Playboy (Carter Garrett and Cassie Stephens)
Book 4: The Unintended Fiancé (Bradley Mead and Erin Baker)
Book 5: The Unforgettable Ex (Gavin Redford and Natasha Garrett)
Book 6: The Unknown Billionaire (Jarryd Westbourne and Marilyn Grant)
Book 7: The Unmasked CEO (Simon Alexander and Geri Blaine)
Book 8: The Unexpected Husband – coming soon!