Tristan Grant and Paige Shipton's love story is currently a work in progress and is due for release on the 23rd of May.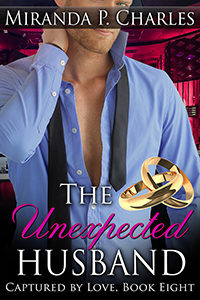 It can now be pre-ordered on Apple iBooks | Barnes and Noble | Kobo
Links to Amazon and other stores will be available soon.
To be notified by email of the book's availability on Amazon, and read the first two chapters prior to publication, simply subscribe to Miranda's newsletter. You'll also be eligible to join giveaways exclusive to my newsletter subscribers.
The Unexpected Husband
As the owner of a slew of entertainment venues, Tristan Grant is at the top of his game. Despite the constant efforts of his most cunning business rival to sabotage his success, he still manages to make his company the number one in his industry. At the pre-opening celebrations of his latest nightclub, Paige Shipton, the beautiful daughter of his hated enemy, turns up uninvited and delivers the news that drains the blood from his face. She is pregnant with his baby. Is Paige's father using her pregnancy to win against him, knowing how attracted he was to Paige before he discovered whose daughter she is?