Xavier: The Contract (Indie Rebels Book 1) is due for release on February 27, 2018.
Store link to Google Play will be available on release day.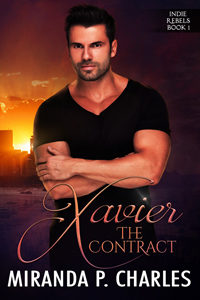 I can't wait to share Xavier's story with you, but it's not done yet! To be notified of news regarding this book, please subscribe to Miranda's newsletter.
Xavier: The Contract
When Xavier Stirling's father admits to a crime he did not commit, Xavier vows to uncover the truth despite the dangers of going against a powerful criminal syndicate that has run rings around the authorities for years. When his own fitness training business starts getting hit by false accusations that threaten to sink him financially, Xavier receives an unexpected offer of assistance from a benefactor willing to provide him with information and resources that Xavier wouldn't otherwise have access to. In exchange, he agrees to help keep journalist Eve Marrin safe—without Eve knowing she's being protected. Now Xavier must not only watch his back—he also has to watch his heart.
For Eve Marrin, her new role as co-lead reporter for a popular public affairs program is a dream come true. She prefers nothing more than to uncover scams, unfair business practices and other matters that the public has the right to know about. When she's given a tip to investigate the fitness training business of Xavier Stirling, she soon realises she needs to build a wall around her heart in order to do her work.
***
Xavier: The Contract can be enjoyed as a standalone novel or as Book 1 of the Indie Rebels series, where steamy, heart-melting romance meets danger, mystery and suspense.
Store link to Google Play will be available on release day.