How did you enjoy Chapter One of The Unexpected Husband?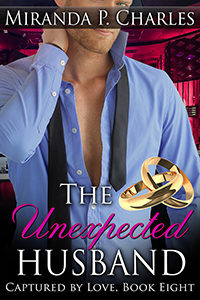 Without further ado, here's Chapter Two. Happy reading!
The Unexpected Husband: Chapter Two
Tristan stared at Paige. She'd truly rattled his cage tonight. Curiously, though, his initial burst of anger at her news was gone. The exhaustion in her features was so palpable that she couldn't possibility be faking it.
Not that he'd stopped suspecting she was in cahoots with her parents. He was merely observing that she was looking tired and down.
As for claiming he was the father of her baby, well, that was something so easily proven or refuted these days with accurate DNA testing that only a fool would try to lie about it. He'd still want that paternity test—he wouldn't be so stupid as not to get one—but he was certain Paige was telling the truth about him having gotten her pregnant.
So he really was going to be a father. And he didn't have a choice but to be ready. His sense of responsibility wouldn't let him turn his back on Paige—no matter who she was—and the baby. His baby.
He was going to have a baby.
Damn it, it was as scary as hell, but he already knew he'd want to be a part of his child's life and provide it with all he was capable of giving. He was an uncle to his older sister's daughter as well as to his best friends' babies. He loved those kids to bits and couldn't imagine himself not embracing his very own flesh and blood.
He sighed, surprised at the excitement that started to grow within him.
He could well afford to have a child, and no doubt his family and friends would be happy to offer whatever help and assistance he'd need when it was his turn to look after it.
Yes, he'd be able to handle it.
But first things first. He had to straighten a few things out with Paige.
He smiled at her. "If the baby's really mine, then I'm all in when it comes to helping you raise it. It's not in me to turn my back on this kind of responsibility. I'm happy to work with you on this, if you're willing to do the same. I know I can be a father to my child even though I'm in conflict with its grandparents. It will be messy but workable. The two of us just need to be in agreement. You and I don't have to be at war with each other."
Paige gaped at him hopefully, and the rumbling of her stomach had him springing up from his chair and calling the kitchen to check on their food.
"It should be here in five minutes," he said.
"Thank you."
He sat back down and regarded her. "What do you know about my dispute with your parents?"
Paige exhaled a drawn-out breath. "I didn't know anything about it until Mum and Dad started to argue during dinner. My mum said that if they let the situation worsen, then you'd go ahead with your threat to sue them. It would then add to the cash flow woes that Shipton Enterprise was already suffering."
Tristan sat up straighter. Shipton Enterprise was having financial troubles? Hm. That might explain Larry and Debbie's actions of late.
"I asked them to fill me in on the issue," Paige said, "but they refused to let me get involved in any way. So I told them the news I'd just found out myself at that point—that I'm pregnant and you're the father. They were shocked and furious, to say the least. They convinced me it'd be a mistake to tell you about it since they were sure you'd just reject the baby."
"You thought about not telling me?" he asked sharply.
"Yes. You were livid that morning in your hotel, when you found out I was a Shipton. So, yes, I believed my parents when they said you wouldn't want this baby. In fact, you made me believe the same just a few moments ago."
Tristan smiled cheerlessly. Okay, he couldn't blame Paige for making that judgement.
"Anyway," Paige said with a sigh, "I was all set in keeping this news from you until I overheard my dad on the phone the other day. He said it could destroy Shipton Enterprise if you won your planned court case."
Tristan leaned back on his chair and crossed his arms against his chest. "So you're here to ask me not to go ahead with it."
"Not ask, beg," Paige said quietly.
"And you'd planned to use the baby to get the outcome you want."
Paige blushed. "Yes, in a way. Frankly, I've been feeling sick in the stomach all day thinking about it. If your dispute with my mum and dad escalates, I don't want my baby to end up as a pawn, so I thought I'd try to ask you to reconsider now, for the sake of your unborn child. Would you want our baby to grow up and find out that its family members have tried to destroy each other?"
"It goes both ways, then," he countered. "Your parents have to be as mindful of the baby when they continue to slander its father."
Paige gazed at him questioningly. "Slander? I got the impression it's you who refuse to negotiate."
He cocked his head.
"Like I said," Paige said, "my parents don't want me getting involved, so they haven't shared anything with me apart from the fact that there's this big dispute going on between you and them, and that you're close to suing them."
"Do you really want to know?"
"Of course!"
Tristan pressed his lips together. Paige certainly seemed genuine. Maybe she really only wanted to help bring a peaceful resolution to his conflict with her folks now that she was pregnant with his baby—and nothing else.
In any case, it shouldn't hurt to tell Paige his side of the story. At least she'd hear only the truth from him.
"I heard about your parents wanting to offload one of their clubs in Melbourne," he said. "I wanted to bid for it before it officially went on the market, so I called them and they agreed to meet with me in your father's office. I made an offer, which they didn't accept, saying it wasn't high enough. I asked if they had a problem with me buying one of their clubs because I know they were dismayed that TG has overtaken Shipton Enterprise in terms of revenue and profitability. They denied that and, to supposedly prove their goodwill, they had a contract drawn up naming me as the buyer, but showing the higher purchase price they were willing to accept. They'd even signed the document, duly witnessed by Preston Pawlish, your company's in-house lawyer, before they handed it to me so I could think about it."
Paige nodded, indicating her attention to and interest in his explanation.
He repressed a sigh. She really did appear guileless when she gaped at him with eyes rounded and mouth opened.
"I decided to accept your parents' counter-offer three days later, and I called Larry to tell him my news. He said there was another interested party, and that whoever returned a signed contract first would get the club. As you probably know, my office is five blocks away from the Shipton office, so I told your dad I'd be hopping in my car to see him right there and then. He'd even said okay, that he'd see me soon. But when I got there fifteen minutes later, I was told your parents had been called to an urgent meeting. So I saw Preston instead. I whipped out my copy of the contract and signed it in front of him. He even witnessed my signature. We shook hands and Preston congratulated me. Three days after I signed, my lawyer told me I wasn't successful with the purchase. Apparently, I was too late. The first thought that came to my mind was I must have been late by a matter of minutes—that your parents must have been in a meeting with the other buyer when I was with Preston. But my lawyer said I was late by a day. That's simply not possible with the sequence of events. I've been demanding an explanation, but your parents are repeatedly stonewalling me."
Paige stared at him, speechless.
"I still want that club, and from where I'm sitting, it should be mine. I don't understand what your parents' problem is—apart from they don't want TG to get further ahead of Shipton Enterprise. But even that doesn't make sense. Why didn't they refuse to negotiate with me from the very beginning? And now they're badmouthing me to people, saying I'm a liar who doesn't want to play fair when they're the ones who constantly refuse to explain to me what happened. So in the absence of any other explanation, I suspect they meant to harm my reputation all along, possibly because they can't afford for my company to keep on growing at the expense of Shipton Enterprise."
Paige shook her head in disbelief. "I'm sure that's not the case, Tristan."
"Well, your parents don't seem to have any desire to clarify the situation. But that's not what infuriates me the most. Business partners I respect have been hearing their insinuations against me. I just can't sit here and not protect my own reputation. So if there's anyone you should be talking to so this dispute doesn't go to the courts, it's your parents."
Paige rubbed her face. "I can see why you're so angry. Like I said, I don't know what their side of the story is because they don't want me sticking my nose in this. But I'll talk to them. This is ridiculous!"
Relief—glee, even—washed over Tristan, and he inhaled sharply at the strength of it.
Paige seemed to believe him. And, curiously, it meant a hell of lot.
He gave her a smile as tension left his body.
Paige's stomach growled again. "Shh," she said to her belly in embarrassment.
Tristan chuckled, wanting to touch her stomach and rub it himself. Even though he'd wondered at the time if the broken condom would give him problems later, he'd chosen to believe Paige when she'd said it wouldn't result in a pregnancy. Well, they'd been very wrong, and a little person was now growing in Paige's tummy. His child.
He was starting not to mind. He really wanted it.
And… wow… the realisation was mind-blowing.
A knock on the door startled him, and he went to answer it.
Jade Renner-Bilton, one of his close friends, poked her pretty head inside, with the sound of a crying toddler coming out of the phone in her hand. "Oh, sorry, guys. I was looking for an empty room to talk to Julian and was hoping this was one."
"Are the others being used?" Tristan asked.
"Yes. Some people are having impromptu business meetings, and some are enjoying much-needed privacy," Jade said with a laugh.
Tristan snorted, wondering who among his guests were having sex right now. Sexual activities in the main areas of his clubs were expressly forbidden in order for TG to maintain its clean, fun image, and anyone engaging in them would be banned for life. But private rooms were never monitored, and he'd always given his friends leeway during private parties such as this.
"Come on in, Jade. We're having a meeting, but our food's coming shortly, so we don't mind taking a break."
"Are you sure?" Jade asked with a curious look towards Paige.
"Yes, no problem," Paige answered.
Tristan introduced the two women to each other.
"Thanks, guys," Jade said. "I won't be long. It's just a bit noisy out there and I need to see if I can settle Julian a little bit. He doesn't want to go to sleep. He's looking for me and Lucas."
"No worries," Tristan said, going back to his seat.
Jade held the phone in front of her face to talk to her seventeen-month-old son via FaceTime. "It's time for bed, bubba. Grandma and Granddad will read you a bedtime story."
"Mammaaaaa!" Julian whined.
"I think I got him overexcited with too much playing," Jade's father's voice said with a sigh.
"No," Jade's mother countered. "It was the chocolate you gave him behind my back."
"Dad!" Jade chastised.
"That was a while ago now," Jade's father said defensively. "And it was only a little square."
Jade shook her head good-naturedly. "Julian, honey, sleep now. It's way past your bedtime."
Julian said something unintelligible.
"No, bed," Jade said softly but firmly, seemingly understanding what her toddler had uttered.
Julian let out another garbled sentence, as if reasoning with his mother. They all laughed, which made Julian cry again.
"Can I talk to him?" Tristan asked.
"Sure." Jade sat down on the chair next to his. "Uncle Tristan wants to talk to you, bubba."
"Hey, buddy. Why are you crying?" Tristan asked the adorable kid.
Julian's cries instantly ceased and a big smile appeared on his face. "Kel Tan! Ball!"
Jade laughed. "Oh, no. Now he thinks you're gonna play with him. He absolutely loves the ball you gave him a couple of weeks ago. It's his favourite toy at the moment."
Tristan grinned proudly.
"Kel Tan! Ball!" Julian repeated, pointing to something out of sight.
"Oh!" Paige said, chuckling. "Kel Tan means Uncle Tristan."
"Yes, I'm his favourite playmate. Right, Julian? How about we play sleeping bunny?"
"Play!" Julian said excitedly.
"Yeah. Sleeping bunny. It goes like this." Tristan placed his head on Jade's shoulder and pretended to sleep, snoring loudly.
Laughter bubbled out of Julian.
"Come on. Do it with me," he said to the toddler, snoring again.
"Kel Tan. Want ball."
"No. Sleep." Tristan made louder snoring noises, squinting his eyes.
"Want ball!" Julian said, followed by an intelligent-sounding sentence that nobody could understand.
The adults chuckled again, with Paige's soft laughter sounding particularly thrilling to Tristan's ears. He glanced at her, and his breath hitched with the meeting of their gazes. He found that he liked her looking like this—happy, relaxed and worry-free, just like she'd been when they'd first met, before the reality of who her parents were had whacked him in the face.
A short knock broke his train of thought, and a server came in with their food.
"I better go and let you guys eat," Jade said. "This little one doesn't look like he's sleeping any time soon, anyway."
Tristan leaned back towards Jade to show himself again on the video screen. "Hey, Julian. Next time I see you, I'll bring you another toy, okay?"
"Toy?" Julian asked happily.
"Next time. I promise. But for now you have to go to sleep. Okay?"
Julian stared at him.
"Show me how you sleep."
Julian squeezed his eyes shut for two seconds.
"That's right. It's sleep time now, okay? Goodnight, buddy!" He sent a flying kiss towards the screen.
Julian promptly returned it, then shut his eyes again for a couple of seconds.
See? He'd be a great dad.
Jade stood up, chuckling. "Thank you, Uncle Tristan. I'll leave you guys alone now. Thanks for letting me interrupt. And it was great meeting you, Paige."
"Same here, Jade," Paige said with a smile. "Bye."
"Bye!" they heard Julian say as Jade walked out the room and closed the door behind her.
Tristan looked at Paige and their gazes locked. They smiled at each other and a wordless connection seemed to zip between them. They'd be great parents.
He broke the contact and turned his attention to the food. Much as he found himself softening on Paige, he still couldn't afford to fully let his guard down.
Paige's belief in her parents didn't make Larry and Debbie innocent of malicious intent. What concerned him even more was the fact that Paige's parents hadn't wanted Paige telling him about the baby. If the roles were reversed, he'd want the bastard who'd gotten his daughter pregnant to stand up to his responsibilities.
But the Shiptons preferred to deny their grandchild a relationship with its father, over what? A contract dispute? It simply didn't make sense. That was why he believed something more had to be at play here. And his gut told him it could be sinister.
As for Paige, well, he could feel her sincerity. But whether he was simply being swayed by his strong attraction to her, he wasn't sure.
He shook his head mentally. Paige could be easily influenced by her parents. Her allegiance towards them could be unshakeable.
And if he wasn't careful, he might be letting himself be lured into a trap.
***End of Chapter Two***
Not long to go before Tristan and Paige's story releases! Mark your calendars. June 13th is the date. I'll be back then to give you the links to all the stores.
In the meantime, you can pre-order The Unexpected Husband from the following sites.
Amazon.com |  Other Amazon Stores | Apple iBooks | Barnes and Noble | Kobo
Thank you and take care!
Love,
Miranda xo