Hi! Hope you enjoyed Chapter One of Brad and Erin's story yesterday. Here's what follows:
The Unintended Fiancé: Chapter Two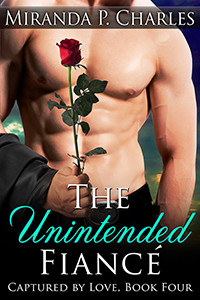 Erin caught a familiar figure out of the corner of her eye and started typing furiously. If she looked super busy, maybe Kevin wouldn't stop by her desk.
Darn her professionalism. If she hadn't said it was "absolutely no big deal" when her boss had asked if it would be a problem if she and Kevin worked together, she wouldn't have had to suffer working with the man—and have him occupying the desk right next to her little corner of the office.
"Morning, Erin," Kevin said, setting a store-bought cup of coffee on her desk. "Here you go."
"Thanks, but you can have it," she said tersely, not taking her eyes off her computer screen.
"But this is the mocha you like."
"Kevin," she said in a low voice, not bothering to hide her irritation. "I already told you to stop getting me coffees or fruits or cakes. People are starting to wonder if there's something going on between us again."
Kevin smiled. "Would that be so bad?"
She gaped at him in disbelief. "Are you kidding?" After her lunch with him and Paula two weeks ago, she couldn't believe his comment.
The first few minutes of that lunch had been pleasant enough, but it had quickly turned to one of the most agonising she'd sat through. Kevin and Paula had started bickering. In front of her.
But that hadn't been the most uncomfortable part. She'd wanted to zip Kevin's mouth when he'd brought up Paula's propensity to overreact, and then said that Erin had never shouted at him like a banshee the way Paula always did.
Paula's friendliness towards her had cooled very quickly after that. And Erin still wanted to throttle Kevin for bringing her name up while in the middle of an argument with his wife.
"Erin," Kevin said, placing both his hands on her desk to lean closer to her. "What's wrong with being friends again?"
"Kevin," she said with gravity. "We're not best buddies. Ease up."
"I can't help it," he said, staring into her eyes.
She looked up to the heavens, letting out an exasperated breath. What the hell was this guy up to? "It's making me very uncomfortable, okay? Please stop this."
"Okay, but can we talk? Have lunch with me today."
"What for?" she whispered almost furiously.
"Please," he said, his eyes darting around the office.
That made her glance around as well, and she caught a few of their officemates looking away. Amy, her closest work friend, raised her eyebrows at her in question.
She sighed. Best to have a talk with Kevin elsewhere, she supposed. She didn't relish the thought of being the centre of office gossip.
"Fine. Lunch, then. At the food court downstairs."
"I have another place in mind—"
She shook her head stubbornly. "Food court, Kevin. At twelve."
"Okay," he conceded.
*
Erin sat down at a table Kevin had been saving for them in the almost-full food court.
"Looks yummy," Kevin commented as he checked out the grilled chicken and avocado salad she'd bought. "Start eating while I get mine."
She did start eating as Kevin went to get his food. Normally she'd wait for her companion to come back, but she was annoyed enough to not want to show him the usual level of consideration.
Kevin didn't take long. He was back with a burger and smiled at her as he sat back down. "Why are you so short with me, Erin?" he asked softly.
Her brows lifted. "You waltz around the office like we're more than the best of friends. You're actions are over the top. Don't you see that you're being quite inappropriate? You're married, and I'm your ex. And you've made your wife suspicious of me."
"Erin," Kevin said, reaching for her hand.
She instantly pulled it out of his grasp. What the hell was wrong with him? Hadn't he heard what she'd said?
Kevin sighed. "Haven't you noticed anything?"
"What?"
He raised his left hand and wiggled his fingers.
She blinked. He wasn't wearing a wedding ring.
"I moved out of the house last week."
"I see," she said coldly. "What's that got to do with me?"
"I made a mistake, Erin," he said, trying to reach for her hand again.
She let out an incredulous laugh.
Kevin sat back on his chair, taking a long, deep breath. "I'm going about this the wrong way, am I not?"
"I'm not remotely interested in getting back together with you, Kevin."
He smiled patiently. "I know you're still angry at me. What I did to you was hurtful and callous. I let you down. But what I did—marrying Paula and breaking up with you—was a huge mistake. I was so very wrong."
She gawked at him, sheer disbelief coursing through her. "Surely, you're not expecting to pick up where we left off?"
"No. I know I have a lot to do to make up for what I've done. All I'm asking at this time is the chance to do that."
She shook her head. "I'm sorry, Kevin. I don't want another chance."
"Erin…"
"I saw you in a totally different light after the way you handled your marriage and our break-up. I'm not interested, Kevin. Sorry."
Kevin nodded his head. "Okay. I'll wait."
She frowned. "I said I'm not interested. There's no point in waiting."
"I heard what you said. But I know you, Erin. I know how you used to feel about me. That kind of commitment just couldn't die, even after all this time and what we've been through. I know deep inside you still want me—because I still want you."
Her jaw dropped to the ground.
"You're very different from Paula," Kevin continued. "You were loving and supportive. You never yelled when we fought. You didn't have tantrums. You helped me make good decisions. I want you back, Erin. Let's work things out."
She gave him a dirty look. "You're still married, Kevin. It was only two weeks ago that I had lunch with you and your wife. Shouldn't you be trying to work things out with Paula rather than propositioning me?"
Kevin exhaled gustily. "Like I said, you're very different from Paula."
"So why did you marry her in the first place?"
"It was just the sex. Paula is… wild and passionate and exciting in bed. We had this sizzling sexual chemistry that was undeniable. Unfortunately, she's too demanding and high maintenance. And when she's angry, boy, does she blow up. I don't need that. But you, you're calm and cool in every situation. You're always reasonable and rational. With the kind of pressures I need to deal with at work, I realised I need someone like you by my side if I'm to achieve my career dreams."
Heat crept up Erin's face. What the hell did he mean by that? That she was boring in bed? That all he'd ever want her for was to advance his career?
"But wouldn't you miss Paula's passionate ways in bed?" she said with saccharine sweetness, narrowing her eyes at him.
"Well, better sexual performance can be learned."
"What do you mean by that?" she asked coldly.
"You have to admit there's plenty of room for improvement there, Erin. Maybe read some books, or even go to a sex coach—"
"And what makes you think I'd want you back when you never set my body on fire?" she asked, her jaw tight, before standing up and walking away.
What a certified asshole!
She blinked back her tears. Kevin was nothing but an insensitive jerk, but his words had still stung.
Couldn't he have criticised her in a less humiliating way? As if he hadn't hurt her enough in the past! And it wasn't as if he was the hottest man on the planet or an expert lover, either. Far from it. Their sex life had been average because… well, neither of them had bothered putting in a lot of effort on it! It wasn't just her fault.
Ugh. She still had no idea what had made her stay with that self-centred man for two freaking years.
And there were four more hours to go before she could leave work for the day and stop seeing Kevin's face.
At least Brad would be at home waiting for her. He should be settling into her apartment right this minute.
Her lips tugged up. She couldn't wait to see him.
*****
Erin inserted the key into her lock, excited like a little kid opening up a present. It was unexpected, really, this thrill she was feeling. And it made her nervous. Why was she so looking forward to this?
"Erin! Welcome home!"
Her heart skipped. There he was, grinning as he walked to her and kissed her on the cheek.
"Hi! How did the packing go at your house today?" she asked.
"Good. All my stuff, apart from my clothes and personal items that got brought here, are now either in storage, donated to charity, or chucked in the dump. But it was hectic sorting through what needed to go where!"
She chuckled. "What did you expect? You had it all done in one day."
"Well, one day was all I had. Anyway, come with me. I want to show you what my sister's old room now looks like."
She followed Brad to his new room, and she laughed in delighted surprise. The room looked amazing, with the colour scheme of royal blue making this very much Brad's domain. Even his clothes were hung or folded in a neat, ordered manner in the wardrobe, which was open for her inspection. Whoever had unpacked for Brad had done a marvellous job.
"What happened to the old bed?" she asked, sitting and bouncing herself on the one that now stood proudly against the main wall, covered in luxurious cotton sheets of high thread count, by the feel. Even the old headboard was gone, replaced by a more masculine wooden panelling.
"This is my own bed," Brad said, sitting next to her. "I had your old one put in storage along with my other stuff because it just looked too girly for me. You don't mind, do you?"
"No, of course not. This room looks great. How many people were here to stage this today?" she teased.
"What? You don't think I did it myself?"
"This has the feminine touch," she said dryly. "Great as you are with commercial interiors, bedrooms are not your forte."
Brad chuckled. "The people who packed my stuff also unpacked for me here. Turns out they're great at decorating too."
"Well, it looks good. But how come the living room still looks the same? I thought you were gonna bring your bigger TV? I was looking forward to that."
"It's going to be delivered this Saturday."
"What do you mean?"
"I wanted the latest model, so I bought a new one."
She shook her head. "You and your penchant for the latest and the best, Brad."
He shrugged. "It's called supporting the great inventors of new technology."
She smirked. "Is your super-duper coffee machine now in my kitchen?"
"Yup. Couldn't leave that behind," he answered, standing up and pulling her along with him.
"You do know that's all I want from you."
Brad laughed, putting an arm around her shoulders and steering her to the kitchen. "The Chinese I ordered should be arriving soon. Do you want a drink before dinner?"
"Apart from Lexie, none of my other previous flatmates ever offered me a drink upon coming home. I'm already starting to like you being here."
"Good! I'll even make you coffee after we eat. For now, let's open a bottle of wine."
She sat on a bar stool and watched Brad move around her kitchen, getting two crystal glasses and retrieving a bottle from the fridge. He'd clearly already made himself familiar with where things were kept. And, frankly, he looked like he belonged in her apartment.
She bit her lip, stopping herself from smiling too widely. There was that thrill again, running through her body.
Brad turned around and placed the glasses on the breakfast nook.
"I was meaning to talk to you about Elsa, my cleaning lady," he said as he poured the wine. "You wouldn't mind if she comes regularly to help us, would you?"
She gave him a mock frown. "And there I was, promising Lexie that I wouldn't let you get away with not doing your share of housework. I should have known you'd get Elsa to do it for you."
"What I meant was for her to do everything around here," Brad said, clinking glasses with her before taking a sip. "I want to keep Elsa employed for the same amount of time that she used to come to my place because I don't want to lose her. She's fantastic. So reliable and trustworthy. If she starts working for someone else, I might find it hard to get back the hours she currently works for me. She can come here twice a week to clean and cook. She can also buy our groceries, do our laundry, send items to the dry cleaners, change our bed sheets—those kinds of things."
"Our?"
"If she's to work the same hours per week, she'll need to look after you too. This place is much smaller than my house. As it is, she'd have plenty of time on her hands, but I still won't mind paying her the usual amount."
Erin pursed her lips. She didn't mind housework or cooking, but they weren't her favourite things to do. The thought of having some help with the cleaning was tempting, especially since it was something she'd considered for herself before. It just seemed like such an indulgence that she'd never acted on it. Well, this was her chance.
"Okay," she said. "How much will be my share for Elsa's pay?"
"Nothing," Brad said. "I don't expect you to put in for it since I'm the one who insists on getting her to work here."
She opened her mouth to argue, but Brad pressed a finger to her lips, shaking his head at her.
She sighed. There was no point arguing about these kinds of things with Brad. She might as well give in graciously. "Okay, thank you. But I'll pay for our groceries then, if that's the case."
"Fine," Brad conceded unenthusiastically.
"So I get to be spoiled while you're living with me?" she asked, grinning.
"Well, you're my girlfriend, aren't you?" Brad said with a cute lopsided smile. "I'll have you know that I treat my woman like a queen."
She laughed, warmth spreading within her with unexpected speed.
Brad's girlfriend.
That had a nice ring to it.
"So how did you go with the moron today?" Brad asked. "Is he still being a pest?"
She made a face. "He said he wants to get back with me. Apparently, he's separated from his wife."
Brad's expression hardened. "You're not considering it, are you?"
"No, of course not."
"Good. You can do much better than him."
"Yeah," she answered, the memory of Kevin's words deflating her.
"What?" Brad asked, noticing her changed expression.
She couldn't help her blush. Should she tell him? It was a bit embarrassing. But his concerned look made her open her mouth. "I think the reason why Kevin cheated on me and got married to someone else was because he thinks I'm boring in bed. He even suggested I should seek help to improve my… um… sexual performance."
Brad scowled. "He made you think it was your fault? That man is more than an asshole!"
"I know, but I think there's some truth to what he said," she said with a grimace.
Brad effortlessly lifted the stool she was sitting on, shifting it so she was fully facing him, before sitting down in front of her. My, he was really strong. She stared at him as her heart pounded hard in her chest. Damn, sometimes Brad affected her in ways that still surprised her.
"Erin, sex is a two-way thing," Brad said quietly. "If he thinks that you're lacking in bed, that must mean he's not good at lighting your fire."
"Hey, that's exactly what I said to him!"
Brad grinned. "Way to go. He's just justifying himself. You shouldn't give weight to his words."
She smiled. Brad really was such a sweet friend. "Thanks. I think you're right."
"Good. Now I can report to Lexie that I set you straight on something regarding Kevin. She ordered me to make sure the moron doesn't mess with you."
She laughed. "Oh, I do miss living with your sister. But I think you're a good replacement."
"So did you tell Mr. Moron you're now living with your boyfriend?" he asked cheekily.
"Oh! I keep forgetting!"
"Well, you should tell him."
"Are you free tomorrow night to join us for drinks at the pub?"
"I'll make time. Can't wait to see the moron's face. Should be fun."
She nodded enthusiastically, already looking forward to it. Not the part where she'd show Kevin she was "taken", but the part where she'd act as Brad's girlfriend.
***End of Chapter Two***
Hope you enjoyed the first two chapters of The Unintended Fiancé. It was so important to me to finish this book and share it with you. Hope you're as excited about its release as I am.
Thank you again for all your support. It truly means so much.
Love always,
Miranda xxx
The Unintended Fiancé can be pre-ordered from the following stores:
Amazon US | Other Amazon stores | Apple iBooks | Barnes & Noble | Kobo
It will be available on Google Play, All Romance Ebooks and Smashwords on October 22nd.