Hi there!
I've been quiet for longer than I intended, but I finally have a release date for The Unreal Boyfriend. Derek and Bernadette's story will be published on the 30th of November!
For all those who helped me choose the guy and the special object to go on the cover of this book, thank you! I love this dude and I certainly enjoyed incorporating the pearl necklace in the story.
So here's the final version of the cover. Hope you like it as much as I do.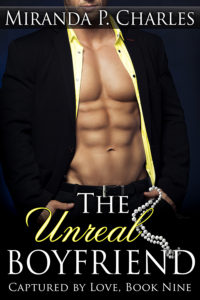 You can preorder Derek and Bernadette's story right now from:
It will be available on Google Play on release date.
That's all for now. Have a wonderful day!
Lots of love,
Miranda xo