Surprise! The stars aligned and Secret Tastes managed to go live in the stores earlier than expected! Rather than hold off the announcement for another day, I thought I'd let you know now.
So here are the links to the stores where you can get your copy of Secret Tastes:
Amazon.com

Other Amazon Stores
Apple
Barnes & Noble
Kobo
Smashwords
All Romance Ebooks
Google Play
I really hope you enjoy the final book in the Secret Dreams series. I'll miss these guys (sigh).
Secret Tastes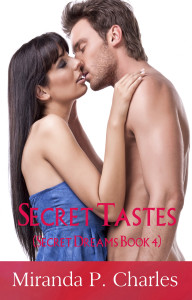 Samantha Lane wanted to resign from her father's accounting practice and move to another state to follow her dream of establishing a catering business. But she didn't want to break her parents' hearts. When her cousin jokingly suggested to tell them that a man was the reason behind her decision, she found the perfect excuse to give her hopeless romantic folks.
Adam Craig didn't mind playing the role of Sam's fake boyfriend. She was a friend in need and he was a helpful guy.  Besides, he was desperate to show a clingy ex that they were truly over, and Sam acting as his girlfriend was the perfect solution.
When their pretense became all too real, a spanner in the works put their future together in jeopardy. How could Sam trust Adam when she had proof he wasn't ready to move on? And how could Adam convince Sam of his feelings when she was intent on moving away from him?
***
If you feel so inclined, let me know what you think of Sam and Adam's story, okay?
Love,
Miranda xxx