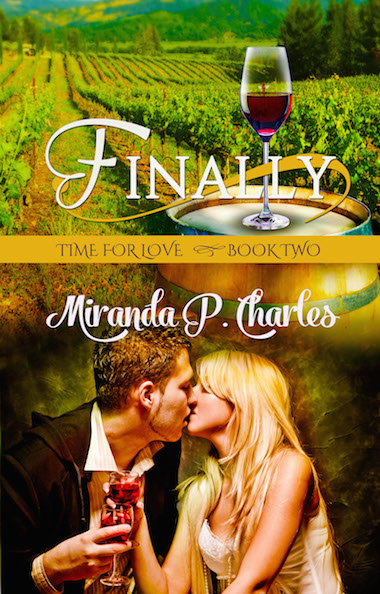 Hi! I've got some news for you. Finally (Time for Love Book 2) is currently in the editing stage and will be officially released on…(drum roll)… May 29th!
I wanted you to be the first to see the cover so I've decided to share it with you now before the book turns up as a pre-order on Apple iTunes and Kobo. Unfortunately, pre-orders are not available for this book on other platforms, but rest assured, it will be available for download on all stores, including Amazon, Barnes and Noble and Google Play on the 29th.
I had a blast writing Jeff and Sarah's love story even though I struggled with these two characters a lot. You see, I insisted that their story should go a certain way. But they stubbornly gave me writer's block until I wrote in the direction they wanted me to go 😉 .
Sarah and Jeff are fun and flirty. But don't be fooled. They're good at hiding their hurts, uncertainties and insecurities.
I'll be sharing with you chapters one and two of Finally a few days prior to its official release date. That's three weeks away and I know that's a bit of a wait. So, for now, here's an unedited excerpt of Sarah and Jeff's story:
"We're getting married," Zach said, giving an ecstatic-looking Rebecca a sweet kiss on the lips.
Sarah gasped while Magda let out an uncharacteristic squeal.
"Oh, darlings, that's wonderful!" Magda gushed, reaching out to hug Zach, then motioning for Rebecca to come close to her for the same treatment.
Sarah glided to her best friend when Magda released her. "Congratulations, hon! I'm so happy for you," she said, squeezing Rebecca tight.
"Thanks, sweetie."
"I can't believe this," she whispered. "Just a few days ago you were crying your eyes out because Zach had broken your heart again."
"I know," Rebecca said with a giggle.
Sarah let go of her friend and hurried sideways to Zach who already had his arms poised for a hug. She let out a surprised cry when she felt a wall of muscle hit her back. A low chuckle came from behind her as warm hands gripped her arms.
"I see you like being sandwiched by two men," Jeff said, keeping her flushed against his chest.
"Hey, I was going to give Zach a hug and I thought he was aiming for me." Despite her light response, Sarah knew she was redder than beet. And, heaven help her, she couldn't move away. She was frozen in the hot water as Jeff's caressing hands slid down her arms. When he stepped back from her, the chill she felt was startling.
"Here we go, Sarah," Zach said, his voice laced with amusement as he embraced her.
"Congratulations, Zach," she murmured, returning the gesture and swallowing her embarrassment.
"Thank you."
"My turn," Jeff said.
She moved away from Zach to make room for Jeff. To her utter surprise, Jeff wrapped her in his arms. Her already racing heart galloped faster and, Lord, she'd rather not admit it, but she felt a delicious, needy tingling between her legs.
"Oops, wrong person," Jeff said, grinning wickedly before turning to give his brother an affection hug.
"Don't mind him, Sarah," Zach said, casting Jeff a warning look. "He's just a big, flirtatious joker. And for all his reminders about our photos making it to magazines, he's the worst when it comes to public exhibitionism."
"I'm finding that out," she said wryly.
_____
More to come soon!
Love yah,
Miranda xxx