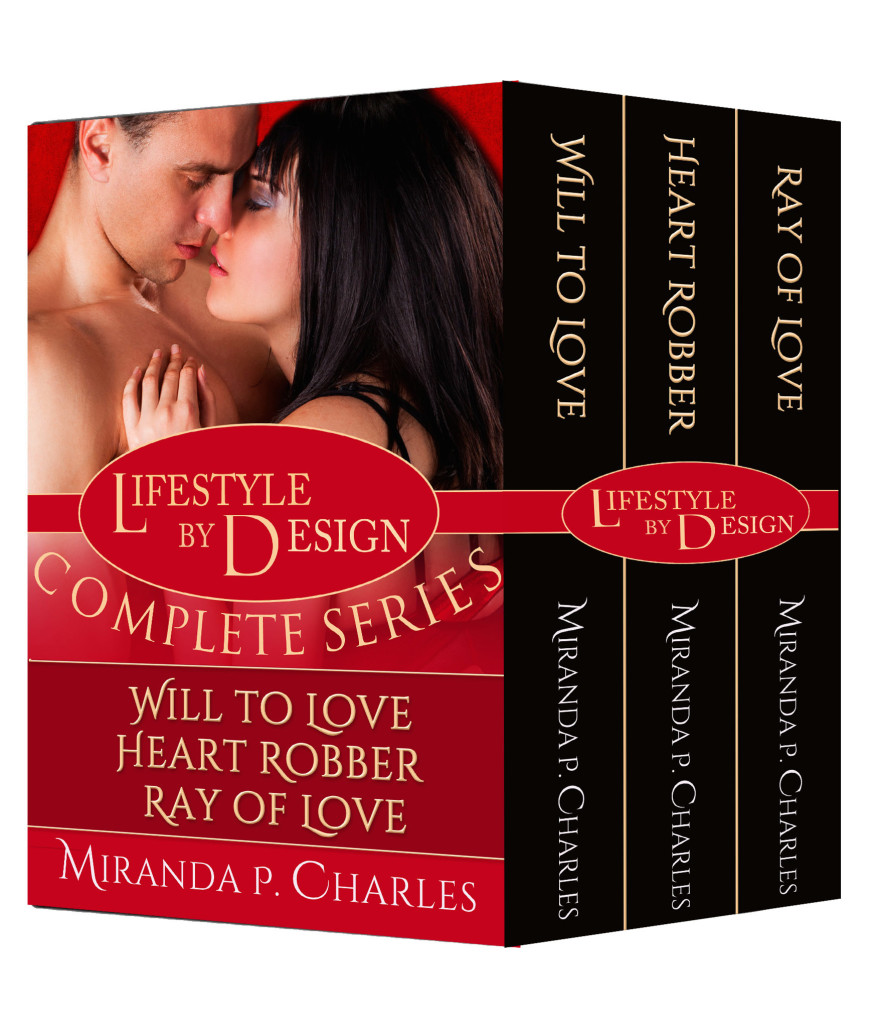 The Lifestyle by Design series is now available as one ebook! It includes all three hot, sexy and sweet novels.
You may already have read this series (if so, thank you so much!). But if you haven't as yet, or if you've enjoyed the books and wouldn't mind spreading the word to your friends, this series bundle is the way to go.
Of course, you can still get Will To Love (Book 1 – which is still free on all stores), Heart Robber (Book 2) and Ray of Love (Book 3) as individual books if you prefer getting three separate files on your reading device.
The Lifestyle by Design: The Complete Series is available in the following stores:
Here is a brief description of each novel:
Book 1: Will to Love (Clarise Carson and Will Matthews)
Clarise Carson is desperate to keep her newly-engaged sister from playing matchmaker at her very own engagement party. She can't think of anything more embarrassing than have her sister's guests see her as the loser in love who can't find The One, so she drags a handsome friend to be her pretend date for the night.
Will Matthews attends his friend's engagement party purely for business reasons. He has no desire whatsoever to be introduced to single females who are after a boyfriend. He is far too focused on building his business to the success he dreams.
When Will and Clarise meet, sparks fly. Can Clarise stop her old wounds from opening up again and take another chance on love? And how can Will learn to embrace the one thing he doesn't even know he wants?
Book 2: Heart Robber (Jessa Allen and Rob Granger)
Jessa Allen knows she's plain and average, even when her well-meaning friends encourage her to believe otherwise. So when hunky and gorgeous Rob Granger asks her out, she is shocked. A seriously handsome man wants her, and that isn't something that happens everyday.
Rob Granger is a self-confessed playboy who has absolutely no plans to be tied down by any woman. He values his freedom first and foremost, and his expanding business is the only thing he is committed to. But he is intent on satisfying his intense desire for Jessa Allen who attracts him like a moth to a flame.
When Jessa agrees to a fling with Rob she finds herself falling for the man who cannot promise her tomorrow. Can she trust herself not to fall apart when the time comes to let Rob go? And can Rob ever find freedom in what he considers a prison to be avoided at all cost?
Book 3: Ray of Love Book (Faye Summers and Ray Thackery)
Faye Summers decides that casual dating is the way to go to ensure she's fully healed from her last breakup. When Ray Thackery, her best friends' boss, asks her out, she agrees–but only if they keep it quiet. She doesn't want the complications that may arise with her best friends' working relationship with Ray if their fling ends up in a sour note.
Ray Thackery has kept his feelings for Faye hidden for so long. Now that she is single again, he is determined not to miss this chance to make her fall for him. He's not interested in a casual-only affair. Not with Faye. He wants more than that with her.
Their relationship, beautiful and passionate when it started, quickly arrives at the crossroads. How can it survive when the two people involved have very different intentions?
*****
Thank you for reading and sharing! I'll be back soon with more news on Book 3 of the Time for Love series.
Love,
Miranda xxx