Hey there!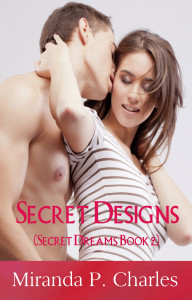 Secret Designs (Secret Dreams Contemporary Romance 2) is now available from Amazon.
I'm really so excited to share with you the love story of Ari and Dylan. I'm going to confess it's one of my favourites. Do let me know how you enjoy it, okay?
Here's the book description and at the end, you'll find the all important link so you can get your copy.
By the way, both Secret Words and Secret Designs will be available in other platforms from next month. I'll let you know when.
A hot and heart-warming novel that will make you melt.
When Ari Mitchell had an unexpected one-night stand with her best friend's future brother-in-law, she had full intentions of moving on from it without any dramas. But Dylan Summers was someone she couldn't stop thinking about — and wanting again. Problem was, he didn't do relationships.
Dylan Summers only allowed himself one-night stands for reasons only he and his two best friends knew about. But after his night with Ari Mitchell, he admitted to himself he had to be with her again, even if it meant making things very complicated.
Their mutual attraction was simply too strong for them to ignore. But how could Ari find a future with a man who avoided commitment? And how could Dylan open up to the woman who could heal his heart, when he feared her true motives for being with him?
*******
Click here to get your copy from Amazon.