My new book is almost ready!
I haven't had much time to share with you the progress of this book, but rest assured it's because I've been working hard to get it ready for publishing this month, as promised.
First things first–the title. It's called Forever (Time for Love Book 1). Barring any unexpected problems (fingers crossed there wouldn't be any), Forever will be available in the stores by… March 24th! (Maybe even a couple of days earlier if things go smoothly with uploading them on the various sites).
So here's the first look of the cover and the book description: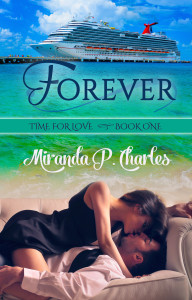 Rebecca Andrews knew she was lucky to be hired as a private nurse for an elderly lady who was going on a one-month trip aboard a luxury cruise ship. But there was one big problem. The client was the grandmother of her ex-boyfriend–the guy she was still in love with, the guy who didn't love her back.
Zach Carmichael couldn't say no to his grandmother's plea to join her on a month-long cruise for her eightieth birthday. But he didn't expect his spritely gran to bring two private nurses with her. One of them happened to be the woman who'd broken his heart–the one he believed lied to him about her feelings.
Aboard a luxury liner, their passion for each other flared again. Was it just a temporary flame brought about by the romance of being on a cruise? How could they give love another chance when they were both afraid to put their hearts back on the line?
***
In a handful of days, I'll post chapters one and two and you can be one of the first people to read them 🙂
Before I go, I just want to say thanks so much for your support! It means a lot to me, knowing there are people out there who enjoy the fruits of my many hours of toggling between delightful imagining and pulling hair in frustration, and between typing like a maniac and staring into space.
I continue writing because you continue reading 🙂
Till my next post.
Much love,
Miranda xxx