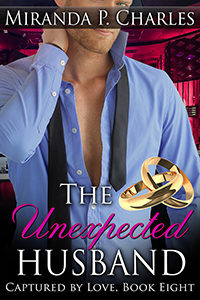 One week to go before The Unexpected Husband releases! Really can't wait for you to read Tristan and Paige's story. I so love those two together.
Today is the time to share Chapter One with you. So here it is. Enjoy!
The Unexpected Husband: Chapter One
Tristan Grant forced himself to take in air, filling his lungs to capacity. But his breath was in a hurry to leave him, rushing out in a big audible whoosh through his mouth. He tried to shake off his shock by peeling his gaze from the woman in front of him and glancing around.
Streams of people strutted here, there and everywhere, and it occurred to him that the bustle of a busy Saturday night in Sydney's entertainment district matched the scrambled thoughts in his head.
"You'll probably want a paternity test," Paige Shipton said. "Of course I'd be happy to get one done, but I can also assure you that you're undoubtedly the father because I haven't been with anyone else since our night together."
He blinked, his gaze returning to the beautiful long-haired brunette with the most incredible amber eyes. She'd just dropped a bomb on him, and his mind was still struggling to grasp the situation.
Could Paige be telling the truth about being pregnant with his baby? Or was it a lie—a ploy to soften him up and get him to drop his planned court case against her parents?
Hah, it had to be the latter. He wouldn't put it past the devious Larry and Debbie Shipton to create a ruse such as this. Paige's parents were desperate enough to concoct anything that would restore Shipton Enterprise's status as the number one provider of entertainment venues in Australia—a position Tristan's TG Company now held.
Tristan had always played fair, but Paige's parents didn't know the meaning of the word. Now their twenty-eight-year-old daughter was here with shocking news, gazing at him with her captivating eyes.
His lips twisted mirthlessly. "Was this your plan all along? For me to get you pregnant when I was blissfully unaware that you were the daughter of the two people determined to make my life hell?"
Paige gasped indignantly, her hands going to her hips. "How dare you say that?"
"Wasn't that why you went to my club in Brisbane three nights in succession?" he pressed, remembered anger pushing him on. "Come to think of it, it couldn't have been a coincidence that you happened to visit when I was there."
"I even admitted that I was there to compare your club to the Shipton one on the same street!"
"You said that flirtatiously while we were dirty-dancing, so I thought you were just another patron flirting with me. You didn't tell me your surname was Shipton."
"I honestly thought you knew who I was, Tristan," Paige said, glaring at him with a hurt look. "We were both at the Safety in Nightclubs conference two days before I saw you at your club. I also gave a talk there as a last-minute stand-in for my dad, who was sick. How was I to know you'd left the event by the time I was up on stage?"
"You could've mentioned seeing me at Safety in Nightclubs when you introduced yourself to me, but you didn't," he said stubbornly.
"May I remind you that I was minding my own business when you approached me?" Paige challenged.
Tristan raked his hair, huffing. Yes, it had been him who'd introduced himself to Paige. She'd been dancing with a couple of girlfriends and she'd simply caught his eye. But he wouldn't have noticed her if she hadn't planted herself right in front of his table and moved so sultrily to the music. "You made eye contact with me a few times, ensuring I noticed you," he said in an accusatory tone.
"I admitted I was attracted to you. That was why I was staring! Argh! How I wish I'd known what a heartless, suspicious person you are before I let myself get seduced by you."
He ignored Paige's apparent frustration. He wasn't going to let her fool him again. "You came back for three straight nights, flirting with me each night, and never telling me you were a Shipton. Even when I invited you to my hotel room on the third night, you still didn't tell me who you were. Isn't it strange for the daughter of my toughest competitors to agree to sleep with me just like that?" he said sarcastically.
"Oh my God," Paige said, putting both hands on her head. "Tristan, you kept inviting me back! I thought we were getting along really well. For the umpteenth time, I thought you knew who I was! I didn't care that you were our competitor. I thought we were both adults who were attracted to each other and capable of separating our personal life from our professional life. I was happy not to talk about work so we could get to know each other on a personal level, and I thought it was the same for you!"
Tristan narrowed his eyes, hardening his heart that was starting to melt from Paige's excellent acting. "If I'd known who you really were, I wouldn't have taken you to my hotel room."
Paige shot him dagger looks, arms crossing against her chest. "Are you also gonna blame me for one of the condoms breaking? What did you think I did? Pickpocketed your stash from you, compromised their quality so they'd be sure to break, rewrapped them so perfectly that they didn't look tampered with, then put them back in your pocket—all without you knowing? And did I also make sure we had sex three times to increase the chances of me getting pregnant with faulty condoms?"
Tristan's nose flared. He didn't have a rebuttal for that. He had supplied all the condoms, one of which had failed to do its job.
Suddenly, the wind was knocked out of him again. If Paige was indeed telling the truth, then… he really was going to be a father. Sure, he'd thought about becoming one eventually, but not until sometime in the far-distant future.
He was only thirty-two, with no time for anything other than his demanding business, which was growing at a phenomenal rate. He most definitely didn't envisage having a child with the daughter of the two people he was at war with—even though Paige was still the most attractive woman he'd ever met. Had it not been for the unalterable fact that she was Larry and Debbie Shipton's daughter, he wouldn't have minded continuing to go out with her.
Hell, even when he was this angry, he was still drawn to her. How fucking annoying!
But he couldn't afford to trust her, so he better rein himself in and stop gawking at that beautiful face of hers. He looked away and cursed mentally, furious at this magnetism he couldn't seem control.
"You said the timing was on our side, that you couldn't possibly get pregnant at that time," he said.
"Clearly I was wrong, and I'm sorry about that. But for the record," Paige said icily, "I would never get knocked up for the sake of Shipton Enterprise or my parents. How dare you even suggest that?"
"But I bet they're now happy they have something else they can use against me, huh? If you're really pregnant, that is," he said sarcastically.
"I am pregnant with your baby," Paige said through gritted teeth, then she shivered visibly.
Tristan frowned. It was early spring in Australia, but tonight's temperature was below average, and Paige was only wearing a light jacket. Shouldn't a woman in her condition be taking precautions not to catch a cold? "Have you been out here long?" he asked.
"I arrived more than four hours ago."
"You've been standing out here for four hours?"
"No. I've been going there to rest every once in a while." She pointed her chin towards the fast-food burger joint across the road. "Tonight's my chance to talk to you in person, and I didn't want to lose the opportunity. I don't have your direct number, and your office wouldn't put me through to you. Even tonight, your doormen have constantly refused to even let you know I was here. Good thing that your friends Geri and Simon were helpful enough to call you for me. I was starting to think I'd have to leave without seeing you."
Tristan sighed, hesitating, then gestured for Paige to go towards the entrance of his newest Sydney nightclub, where an invitation-only pre-opening party was happening. He was pleased security remained tight, because it had to. With A-listers and VIPs as guests, he didn't want uninvited people crashing the event to hassle his popular friends. But some semblance of guilt was scratching at his chest at the thought that Paige had been waiting outside for hours.
Enthusiastic clapping and hooting were going on in the establishment as they walked in, with everybody facing the dance floor. Tristan spotted his cousin, Marilyn Grant, holding the mic and commanding attention. Joining her was their friend Derek McCarthy.
Tristan groaned mentally, guessing what the "show" was all about. He'd better escort Paige to one of the private rooms before Marilyn spotted him and dragged him into the spotlight with Derek.
"So congratulations to Lexie Donnelly, who bet on Simon," Marilyn said to more applause. "You've won a few times already, Lex, but I'm sure your selected charity will again appreciate receiving the generous bets of the losers of our latest Captured by Love game."
"They certainly will," Lexie said. "Thanks to all the participants, to Simon for proposing to Geri, and to Geri for saying yes. And thank you, Marilyn, for not betting on Simon for this round, making me the sole winner. You usually put your money on him."
"I know!" Marilyn said. "I was just so tired of losing. I can't believe that when I stopped picking him to be the next bachelor to renounce the single life, he decided to fall in love and get engaged."
"Who did you bet on, Marilyn?" someone in the crowd asked.
"My dear cousin Tristan," Marilyn said with a sigh. "And since there's only him and Derek left as bachelors in the original group, we need more contestants we can bet on for the next Captured by Love round. I know there are plenty of unattached guys in attendance tonight so, people, drag 'em up here so we can parade them!"
Laughing groans came from several male voices as a mini-commotion occurred, with guests cajoling and pushing their single friends towards the centre of the dance floor.
Tristan placed his hand on the small of Paige's back, silently encouraging her to walk faster towards the corridor he pointed to.
"Hey, Tristan! You have to take your place here!" Marilyn called out.
Argh. Tristan glanced at Marilyn, ready to yell out an excuse. But he didn't have to. Simon Alexander was whispering in Marilyn's ear, and Tristan knew his friend had come to his rescue. They continued walking and, finally, he and Paige rounded the corner, where they could no longer be seen.
"Captured by love?" Paige asked, raising an eyebrow.
"With the current circumstances as they are, I bet I'm about to be captured for something else," he said dryly.
Paige stopped to look at him. "It's clear from your reaction tonight that you won't want to be involved with the baby."
He stayed silent. It wasn't that he didn't want the baby, it was just that he was still in shock—and strongly suspected he was being set up by the Shiptons.
Paige blinked repeatedly, seeming to ward off tears. "There's nothing for you to worry about. I'm happy to raise it alone."
Tristan frowned. "Let's talk inside one of the rooms."
So Paige was giving him an out? Was this part of the trick?
Admittedly, Paige didn't have the countenance of a woman who was trying to pull the wool over anyone's eyes. She looked too exhausted and dejected for that. Quite frankly, though, he didn't trust his judgement when it came to her.
But if Paige was truly being genuine… what if he took her up on her offer? Then his world wouldn't have to go through an unexpected upheaval from something he wasn't at all ready for, right? Not that he'd withhold financial support if the baby really was his, but he could leave it to Paige to raise the child.
A strong emotion roared within him, in total opposition to his thoughts.
* * *
Paige followed Tristan along a wide corridor, sadness squeezing her heart. She surreptitiously placed a hand on her stomach. Don't worry, darling. I already love you with all my heart, and I'll look after you with everything I have.
She'd already expected Tristan to reject the baby, but being confronted with the truth had still been like a slap in the face. It stung big time.
But it was a relief, in a way. Her parents were so against her telling Tristan about the baby that she'd originally agreed with them. She'd rather raise her child alone than have the constant stress and heartache of dealing with the man who wouldn't even have touched her with the tip of his finger, much less have had sex with her, had he known who her parents were.
Since the baby didn't mean anything to Tristan, was there even a point to using her pregnancy to negotiate with him regarding his dispute with her parents?
She should switch to plan B. Unfortunately, that wasn't really a plan but a plea. Would he even listen? Should she even continue with this conversation?
Well, she had to try, now that she here. The future of Shipton Enterprise depended on her appealing to Tristan's sense of fairness—if he had any at all.
Tristan opened the door at the end of the hallway and motioned for her to go in first.
Her jaw dropped. This was the first time she'd been in one of TG's private rooms, and it was more impressive than any of the Shipton ones. The elegantly decorated space had an eight-seater dining table on one side and a leather lounge set on the other. There was a bar area and even a recliner couch in one corner. A huge TV hung on a wall.
Paige heard the glamorous woman called Marilyn rattle off the good traits of a bachelor named Derek before Tristan closed the door behind him, shutting out the noise. Clearly, the decor in this room wasn't the only thing that was exceptional. The soundproofing was too.
"So you think I won't want to get involved with the baby," Tristan said as he made a beeline for the bar fridge and took out a tall bottle of water.
She smiled mirthlessly. "It's clear you don't."
"I expressed doubts about your pregnancy, Paige. But if that's really my child, then you're not keeping it away from me."
Paige's breath hitched at the certainty in Tristan's tone. She stared at him, trying to read his real meaning. His green eyes sparkled with determination even as he raked his fingers through his light brown hair.
Gosh, why did he have to be as handsome as she remembered?
And how could she feel attracted to this man again, especially at a time like this?
She shut her eyes to steady herself. When she opened them, Tristan was pacing the room, clearly agitated.
"I know this is a shock for you, Tristan. I actually don't mind raising the baby alone. So I mean it when I say you don't have to worry. I'm not even going to ask you for any child support."
Tristan whirled around to face her. "You turn up here out of the blue to tell me you're pregnant with my child, then you want me to wash my hands of it? Why the hell did you come in the first place? Why tell me at all if you don't want me to have anything to do with it?"
Heat rushed to her face. "You don't want the baby, so I'm not going to force it on you. I don't want to complicate things any further than necessary."
Tristan narrowed his eyes. "I don't believe you," he said with deadly quiet.
She frowned at him. "What do you mean?"
"Are you really pregnant?"
"Yes!" She placed both hands on her tummy protectively.
"Is it really mine?"
"Yes!"
"Then what plans have your parents concocted?" Tristan asked, his countenance immovable. "They do plan to use your pregnancy against me, don't they?"
Paige exhaled in a gush, suddenly weary. "Mind if we sit?" She walked to the nearest dining chair, just as her stomach rumbled with embarrassing loudness.
"Haven't you eaten?" Tristan asked, his brows furrowed.
Ahh, food. Yes, that was what she needed. She'd hardly had anything all day from her stress and worry about this meeting with Tristan. "I only had snacks. I can order a meal from here, right?"
"What would you like?"
"A spaghetti bolognese?" She'd thoroughly enjoyed the same dish at the Brisbane location of TG, where they'd first met. "And a banana smoothie."
Tristan walked to a small corner table and picked up the phone sitting there. She listened while he asked someone to bring what she'd just requested, along with some cakes and fresh fruit.
Now she was salivating! She rubbed her tummy. Mummy's eating soon, darling.
Tristan placed their water on the table and took the seat opposite her. "Back to our topic…"
She held Tristan's gaze. "You've made it clear you'd never have slept with me in the first place had you known I'm a Shipton. That's such a blatant rejection of who I am, so I'm saying you don't have to deal with the consequences of the condom breaking. I don't need the aggravation."
"My issue with you and your parents doesn't mean I don't want the baby," Tristan said, his tone suddenly softer.
She raised her eyebrows in surprise.
"Look, you took me by surprise. Hell, you shocked me, so I'm sorry if I was nasty. I'm still processing this whole thing. But if that's my baby, then I'm more than happy to give you whatever support you need. Just level with me, please?"
What? Was he messing with her mind?
"Paige," Tristan said, voice still gentle. "Just because I'm at war with the baby's grandparents doesn't mean I'm going to turn my back on it. And, forgetting about how we met in Brisbane, my conflict is against your parents only. So I'm sure the two of us can work together regarding the baby."
Paige stared at Tristan. He wanted the baby she was carrying? She blinked away tears that suddenly pooled in her eyes. Damn it, she was touched more than she cared to admit.
And with Tristan's unexpected declaration, should she revert to plan A?
***End of Chapter One***
You can now pre-order The Unexpected Husband from the following stores:
Amazon.com |  Other Amazon Stores | Apple iBooks | Barnes and Noble | Kobo
Links to Google Play and other stores will be available on release day.
That's all for today. Chapter Two will follow tomorrow.
Till then, enjoy your day/night.
Love,
Miranda xoxo