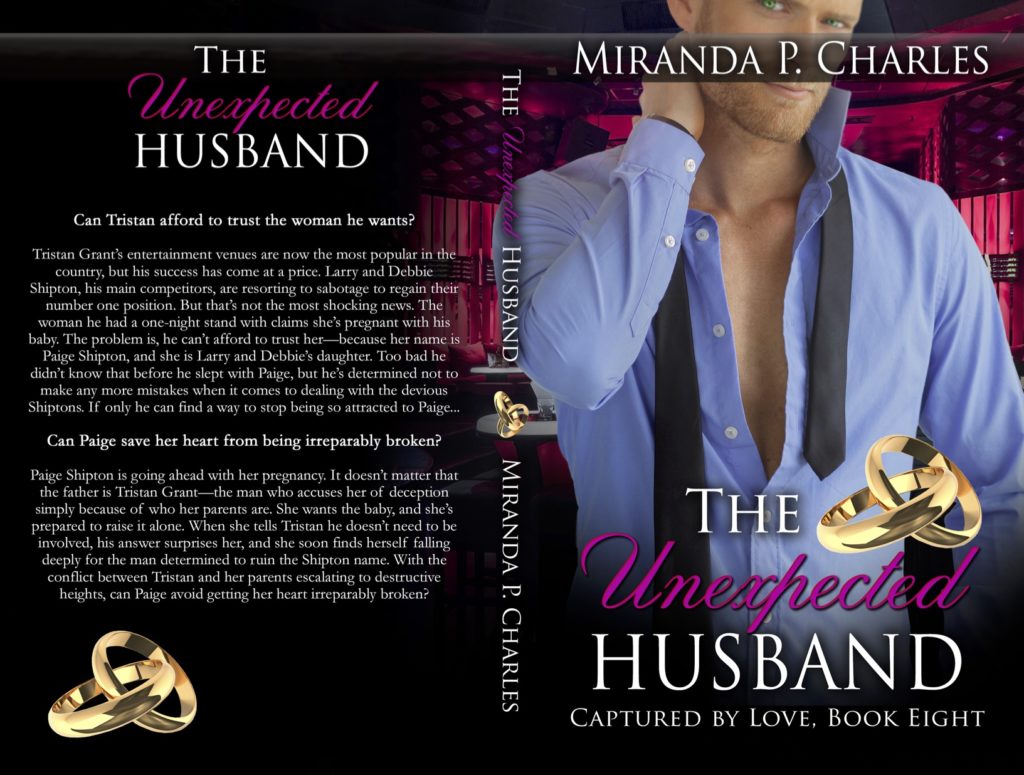 Happy Release Day to The Unexpected Husband!
I'm so excited that this day has finally arrived! It took me longer than expected to finish this book, and I'm so grateful to my editor, Eliza Dee, and to my proofreader, Donna Rich, for working cheerfully with my tight schedule and helping ensure that Tristan and Paige's story is all polished and ready for today.
If you pre-ordered your copy, The Unexpected Husband should already be sitting in your devices. If not, here are the links to the stores, including Google Play:
Amazon.com |  Other Amazon Stores | Apple iBooks | Barnes and Noble | Kobo | Google Play
I really love this story, and I'm sure you'll love it too.
Thanks again for your support. I'll be back very shortly with a fun giveaway relating to the cover for my next book! In the meantime, enjoy The Unexpected Husband!
Much love,
Miranda xo
The Unexpected Husband Book Description
Can Tristan afford to trust the woman he wants?
Tristan Grant's entertainment venues are now the most popular in the country, but his success has come at a price. Larry and Debbie Shipton, his main competitors, are resorting to sabotage to regain their number one position. But that's not the most shocking news. The woman he had a one-night stand with claims she's pregnant with his baby. The problem is, he can't afford to trust her–because her name is Paige Shipton, and she is Larry and Debbie's daughter. Too bad he didn't know that before he slept with Paige, but he's determined not to make any more mistakes when it comes to dealing with the devious Shiptons. If only he can find a way to stop being so attracted to Paige…
Can Paige save her heart from being irreparably broken?
Paige Shipton is going ahead with her pregnancy. It doesn't matter that the father is Tristan Grant–the man who accuses her of deception simply because of who her parents are. She wants the baby, and she's prepared to raise it alone. When she tells Tristan he doesn't need to be involved, his answer surprises her, and she soon finds herself falling deeply for the man determined to ruin the Shipton name. With the conflict between Tristan and her parents escalating to destructive heights, can Paige avoid getting her heart irreparably broken?