September 30 is almost here! I can't wait for the official release day of The Unknown Billionaire. It's a book that took me longer than usual to write, but I absolutely love it. Early ARC reviews on Goodreads show that the ARC reviewers are loving Jarryd and Marilyn's story too.
Well, the 30th is still a few days away, but today there are a couple of things I want to share with you: Chapter One of The Unknown Billionaire and the link to the exclusive giveaway open to my newsletter subscribers only. Let's start with Chapter One first. Here it is!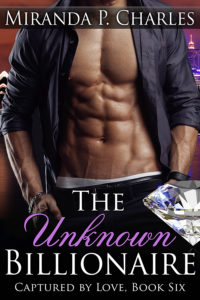 The Unknown Billionaire: Chapter One
"I'm betting on Jarryd."
Marilyn Grant frowned at the glowing Jade Renner-Bilton before nodding and calling up the Notes app on her phone. She opened the document where she recorded her friends' bets for their Captured by Love game and tapped J-A-R-R-Y-D next to Jade's name.
"Are you annoyed at me?" Jade asked in surprise.
She showed some teeth as she forced a smile. "No."
Jade stared at her, confused. "You don't want me to bet on Jarryd?"
"You can bet on anyone you want," she said with a despondent sigh, letting her mask slip.
"What's wrong?" Jade took her arm and led her to a wicker love seat on the patio by the back entrance of Rick and Lexie Donnelly's house, where their gang of close friends and select relatives were celebrating an engagement and four pregnancies, including Jade's.
Marilyn plonked herself next to Jade on the sofa. Good thing they were now out of earshot of their other buddies, most of whom were congregated in the expansive garden decked out with ample outdoor seating. Others were having a dip in the inviting swimming pool, enjoying the perfect Sydney weather on the second day of the Australian summer.
"I just don't want to imagine him winning our Captured by Love game, that's all," she answered Jade truthfully.
"Why not?"
She let out a big exhale. "I didn't want to tell anyone this because I don't want to make a big deal of it, but Jarryd and I dated for three weeks. Then two months ago, he dumped me."
Jade's mouth dropped open.
"Apparently, we don't have enough chemistry."
"That's what he told you?" Jade asked incredulously.
Marilyn nodded, glancing in Jarryd Westbourne's direction. Her heart galloped at the sight of him lounging casually as he chatted with the other guys, his dark brown eyes slightly squinting from the brightness of the afternoon sun. She'd been tempted to comment that his newly trimmed black hair suited him when they'd greeted each other earlier. But all they'd exchanged was a brief "hey, good to see you"—their first verbal conversation since Jarryd had told her two months ago that, while he found her attractive, he didn't think there was a spark between them.
Liar.
If there had been any more of a spark between them, they'd have spontaneously combusted.
Whatever his real reason, it sure as hell wasn't the flimsy excuse he'd given her. They'd smouldered together, damn it!
Marilyn shook her head vigorously to clear the hurtful thoughts from her head. Argh, she hated that her feelings for the man hadn't abated. Worse, seeing him today wearing a plain blue shirt that clung to his well-sculpted torso reminded her just how hot of a hunk he really was. And she so needed closure!
"Hey," Jade said softly, placing a hand on her arm.
"Do you know if Lucas has ever mentioned my parents to Jarryd, since your husband is his bestie among us?"
"I don't think so. Why?"
"Well, Jarryd has known from the beginning I'm well-off—having a big house and driving a luxury car—but I'm sure he thought that was due to me running a successful business brokerage firm. Two days after we had a conversation about my parents, he ditched me. So I don't think he'd known before that I'm the daughter of the Grants of Grant Ace Holdings. I mean, my name doesn't normally appear alongside Mum and Dad's in the media since my business is independent from Grant Ace, and Jarryd probably didn't have a reason to make the connection before."
"Oh, honey. I know you don't like parading the fact that you are Barry and Alice Grant's daughter, but what makes you think that that's Jarryd's reason for breaking up with you?"
"I spent days and nights wondering what went wrong or what I might have done to turn him off," she said glumly. "We were having such a great time getting to know each other, and it wasn't until I mentioned my parents—specifically that they own several shopping centres around the world—that he suddenly started acting distant. Then he ditched me soon after."
"Surely he doesn't have anything against your family's shopping centres?" Jade asked with a frown.
"I think he might have been intimidated."
"Intimidated? But why? It couldn't be because your parents are super rich. We have millionaires and billionaires within our circle and he seems comfortable with all of us. In any case, no one here makes a big deal about anyone's financial standing."
"Maybe for him, being friends with someone from a billionaire family and going out with that person are two different things," Marilyn said with hurt in her voice. "He's not the first guy I've dated who couldn't seem to handle that I'm the only child of one of the wealthiest couples in Australia. Once they knew, either they took advantage of the fact they were dating a Grant, or they started acting funny around me. It's like they suddenly believed being with me would be hard work, or that I'd be too high-maintenance, or that they have to give me extravagant things to please me. That really hurt! I've shown time and again I'm completely happy with the simple things, like walks in the park or eating takeaway as opposed to being wined and dined in five-star restaurants. I'm just another girl wanting to find her special someone."
Jade patted her knee sympathetically.
"You know what?" Marilyn said with a huff, letting herself rant away since only Jade could hear. "If Jarryd believes that we're not compatible simply because he's not at the same level of financial means as my family, then he can take a hike. I have not given him any reason to believe I care about how much he earns or what his net worth is. Does he think I'm a snooty bitch?"
Jade squeezed her hand. "No one who knows you will ever think that. And I'm sure Jarryd knows you well enough."
"So what's his problem, then? It's definitely got nothing to do with lack of chemistry, because we had that in spades. Spades! And if he really knows me well enough, then he should also know that I don't give a stuff that he doesn't have millions of dollars to his name. All I want is his love." Her face burned at her last statement.
"You love him?"
She shrugged, glancing at Jarryd again. "I was getting there."
"Oh, Marilyn. Well, maybe it is a money thing," Jade said tentatively. "You know how some men feel like they always have to be the breadwinner?"
"Yeah," she said sadly. "Thing is, I don't care about that. I know how hard he works in his business. So what if his income is still small at this time? His business is growing. He has to tighten his belt until his hard work bears fruit."
Jade sighed. "Please don't tell anyone what I'm about to tell you, because Lucas told me that Jarryd doesn't want anyone else to know."
"Okay."
"When Jarryd started hiring trucks and equipment from Bilton Machineries, he wasn't satisfied with the answers to the technical queries given by the BDM assigned to him. Lucas stepped in to iron things out and, since my husband is a mechanic at heart, he actually enjoyed answering Jarryd's long list of questions. That was how they became friends."
Marilyn nodded. That part she was aware of. The two men had gotten along like a house on fire. Lucas had even referred Jarryd to Natasha Garrett, another close friend of theirs, which had resulted in Garrett Electricals working on one of Jarryd's projects. In fact, it was because of Jarryd's friendship with Lucas and Natasha that Jarryd had become a regular attendee to their group's get-togethers in the last five months. Now, Jarryd was considered part of their gang. And Marilyn had no choice but to continue to socialise with him, especially since their brief affair was unknown to most of their friends.
"When they became close," Jade said, "Lucas told Jarryd that if he wanted to buy some of the machineries—which would be better for Jarryd's construction company in the long run—Lucas would be willing to give him extended payment terms with an interest rate lower than what's available elsewhere. Bilton Machineries offers that only to a select few. But Jarryd said he couldn't afford to buy. Apparently, one of his major clients went bankrupt and couldn't pay progress payments amounting to several hundred thousands. What was worse was he'd focused on that big project and held back on other ones, so he was really cash-strapped. I don't know where he's at right now, but I doubt he could have turned his fortunes around in a matter of months when construction projects take a long time to complete. So maybe he's a bit embarrassed about the state of his finance after knowing your parents are billionaires? Maybe it's a pride thing for him?"
Marilyn shook her head, wondering why Jarryd hadn't told her all of those things. She would have suggested cheaper dates when they were still going out, especially when Jarryd had insisted on paying most of the time.
Pfft. As if you're special enough to him that he'd reveal his deepest secrets and fears to you.
She sniffed.
Pity the feelings weren't mutual.
And that statement just felt like a bucketful of hogwash.
Argh!
"Jade, slap me."
"What?"
"Slap me."
"Why?"
"Because I'm being stupid," she said with a whine. "I want to believe that Jarryd still wants me but that something else that's totally fixable is holding him back. But whether his problem is chemistry or money or whatever else, the fact remains that he doesn't want to be with me. So give me a hard slap and tell me to wake up. Please."
Jade patted her cheek instead. "For the record, I think that Jarryd still likes you a lot, judging from the glances he's been throwing at you all day. I vote for fixing what's holding him back."
Marilyn groaned. "You are so bad for my sanity. I bet it's the pregnancy hormones that're making you think like this."
"Probably," Jade said with a chuckle, rubbing her slightly swollen belly. "But I'm starting to change my mind about what a nice guy he is. If he thinks you're shallow and snobbish, then he's a poor judge of character."
She smiled at her friend's show of loyalty. "I'm just unlucky in love."
"Hey, don't say that! It'll happen for you soon enough."
She made a sad face. She was starting to worry that the one didn't exist for her. At twenty-eight, she'd been on plenty of dates, some of them with the most eligible bachelors in Australia. But the three times she'd thought the guy could be the one, she'd been left disappointed and heartbroken.
Why did love keep on eluding her?
"You know," Jade said, "I do find it weird that after being infatuated with you like a lovesick puppy, Jarryd would suddenly change his mind after three short weeks, especially since you said you were getting along just fine. So how about I get Lucas to do some interrogating? Seeing that Lucas is his bestie in our group, he just might tell him something."
Marilyn nodded, liking that idea. She was tired of being in limbo, shackled there by her feelings for Jarryd and the belief that his reason for breaking up with her was nothing but a smokescreen to hide something he wanted to keep hidden. With only three weeks left before Christmas, she at least wanted to have some sort of clarity so she wouldn't spend the coming holidays thinking of nothing but him.
"Can you ask Lucas now?" she pleaded with Jade.
*****
Jarryd Westbourne scanned Rick and Lexie's large yard, seeing the happy faces of friends as well as those of a handful of people he'd just met today. But where was Marilyn? He leaned back on his seat, glancing around.
Ah, there she was on the patio, frowning at her phone. She was probably attending to something important to be sitting there by herself. Anyway, it was good she wasn't near him. The farther she was, the easier for him not to stare.
He forced himself to avert his gaze, shaking his head for wanting to keep on gawking. But could he really blame himself? He hadn't seen her in two months and she looked absolutely beautiful today, with her layered shoulder-length blond hair dancing in the gentle breeze. And, heck, she was downright sexy in that green sundress that almost matched the colour of her eyes, her lithe figure showing every time a gust of wind wrapped the soft material of her outfit around her.
Maybe if he hadn't been missing her so badly, he wouldn't be—
Oh, for fuck's sake, why couldn't he stop himself from pining for her? He was thirty-one, not fifteen!
"Hey, dude."
He looked behind him with a start.
"Hey," he said to Lucas, who had a funny smirk on his face.
"Talk to you for a sec?"
"Sure."
"So what's this I've been hearing about you and Marilyn?" Lucas said in a low voice as they walked towards the perimeter of the garden.
Jarryd glanced at his buddy sharply. "What have you been hearing?"
"That you slept with her, then dumped her."
Heat rose to his face, his jaw slackening.
"So what happened?" Lucas asked. "You couldn't wait to go out with her before. Even today, you can't take your eyes off her."
He ran his fingers through his hair, glancing back to ensure no one was following them. "Dumped is a harsh word. It was more like I thought it wasn't going to work out."
"And why wasn't it going to work out?"
"Because…" Damn. What excuse could he give? "It hit me that we were going way too fast towards a serious relationship and that scared me," he said with enough gravity to sound convincing.
"Really? I thought you were already falling fast for her even before she agreed to go out with you."
Jarryd flushed, but kept an impassive face. "Obviously not. Anyway, who told you?"
"My wife. She's been talking to Marilyn. Apparently, Marilyn doesn't buy your reason for breaking up with her."
He pressed his lips into a thin line, not at all surprised by that.
He'd actually meant to say there was not enough spark between them, but for some reason he'd ended up saying they had none—probably from his agitation at having to end things with her. The hurt and bewilderment on Marilyn's face had stopped him from correcting himself, lest he make things worse by inadvertently giving away too much. In any case, all he'd succeeded in doing was sounding like a heartless liar.
"What exactly did you tell her?" Lucas prodded.
Jarryd's phone rang, saving him from answering Lucas. "Sorry, it's my lawyer. I have to get this."
"Sure. We'll continue this later." Lucas clapped his shoulder before walking away.
"Hello, Carl," he greeted after Lucas was out of hearing distance.
"Hello, Jarryd. Is this a good time to talk?" asked Carl Peters.
"Yes, I'm just at a party."
"Oh. Is Marilyn Grant there?"
"Yes."
"I'm surprised you risked being in the same place as her."
He sighed. He knew he shouldn't have come today. But these people were his friends, even though they had no knowledge of the drama happening in his life. Besides, he'd missed them, especially Marilyn.
"Anyway, I have some good news for you," Carl said. "Probably great timing since you're there with Marilyn."
Jarryd straightened. "Uh-huh."
"Bray Hayden, my PI, managed to find out that Barry and Alice Grant have never met with Patrick O'Neill about appearing on Biz Q&A. There was no need for a meeting because both of them declined the written invitation to appear on the show."
His heart raced in excitement. "And Bray is certain that the Grants and Patrick are not connected in any other way?"
"Yes. Apparently, Patrick is keen to have high-profile billionaires like Alice and Barry to be guest mentors on his show. But the Grants are not friends with Patrick. It appears they haven't even met in person."
Sheer relief washed over Jarryd. Thank God for that. "Do you know when Patrick plans to formally challenge the will's validity?" he asked.
"He's still holding off on it. But that doesn't mean he won't ever do it. What did he call you two months ago when he stormed into your office?"
"A scheming thief and evil manipulator," Jarryd said dryly. "I still find it strange that he waited seven months before claiming I manipulated Margaret into writing a new will for my benefit."
"Well, his lawyer said he'd been too shocked and grief-stricken to do anything those first seven months since Margaret's death. Apparently, Patrick was supposed to be in California with Margaret when Margaret slipped and hit her head on those blasted marble stairs. He'd felt guilty about not being with her."
Sadness hit Jarryd at the memory of his birth mother, whom he'd met for the first time less than two years ago. When he'd received a call from her out of the blue, asking if he'd want to connect, he'd been shocked. Apparently, Margaret had wanted to find him for a long time, but had been waiting for him to instigate the connection—until she hadn't wanted to wait any longer.
He hadn't hesitated agreeing to meet her. He'd already toyed with the idea of searching for his birth mother, with the encouragement of his wonderful adoptive parents. But the last thing he'd expected was to come face-to-face with the Margaret O'Neill, widow of Harold Greeves—the business genius who'd steered Greeves Minerals Corp into becoming one of the world's biggest miners of diamonds and other gemstones.
Five years ago, Margaret's grieving face had been all over the news when her billionaire husband and their son—their only child together—had died from injuries sustained in a car accident in Germany.
The spotlight had been on Margaret again three years ago, when she'd married Patrick O'Neill, the charismatic and popular head panellist of the respected TV show Biz Q&A. The man who, two months ago, had vowed to make Jarryd's life hell for Jarryd's supposed manipulation of Margaret.
"Don't worry, Jarryd," Carl was saying, dragging his attention back to their conversation. "If Patrick makes any legal or public accusation that you coerced Margaret into giving you the bulk of her estate, we'll pull out all the stops to prove that he only wants to ruin your character so he can end up with Margaret's money. Besides, he might have the adulation of his fans and the support of some very influential people, but you have the money to fight him on this. You're the billionaire, Jarryd. You."
"Well, I don't plan to live like one until all the question marks on my character are gone. And I can only hope that Patrick will give due respect to his departed wife by not publicising any of this."
"I hope so too," Carl said. "But personally, I don't think we have to worry about Patrick bringing this out in the public arena until he's sure he can win. And right now, he knows he can't. He has no proof. But he'd want to protect his image to the fullest, so he wouldn't want people to know that his wife decided to leave most of her wealth to a son that she'd never told him about."
Jarryd ran a hand over his face. Even he had been stunned to learn of his inheritance. Margaret had never told him about it.
What made it worse was that, apart from his parents, he hadn't told anyone about meeting his birth mother either. Margaret had requested that they keep their reunion a secret for a short period so they could get to know each other without the unwanted attention that might arise from Margaret's public profile as CEO of Greeves Minerals. Then Margaret had asked him to continue keeping their relationship a secret when Greeves Minerals started negotiations to buy Well of Brilliance, a diamond retail company and custom jewellery maker that Margaret had been especially keen on acquiring. She'd been concerned that juicy news about her personal life might result in negative publicity that could affect their success.
Now that Margaret was gone, he was still duty-bound to hide his relationship with her. Olivia Greeves, Margaret's sister-in-law who was now Greeves Minerals' CEO, was trying to get the negotiations back on track to acquire Well of Brilliance. Olivia, too, had asked Jarryd to stay quiet until the Well of Brilliance deal was finalised. The talks had been going on and off for far too long, and Olivia didn't want anything that might stall it again. Of course he'd agreed. He now owned fifty percent of Greeves Minerals and wanted what was best for the company.
He shook his head to clear it. "Anyway, Carl, is there anything else you wanted to talk to me about?"
"That's it for now. Have you spoken to Marilyn today?"
Carl's sudden change of topic made Jarryd's breath hitch. "I'm just about to. Apparently, she wants to know exactly why I broke up with her. You have no idea how relieved I am to know that her parents aren't connected with Patrick."
"But hasn't Olivia asked you to stay quiet about your relationship with Margaret?"
"Yes, for now. I don't have to mention Margaret to anyone. I've managed to keep it to myself for all these months."
"Well, good luck with Marilyn today."
"Thanks," he said before they said their goodbyes.
Jarryd took a minute to compose himself after hanging up.
If only he hadn't been so muddled two months ago.
But he'd been taken aback by Patrick O'Neill suddenly accusing him of something so unthinkable as coercing his birth mother into writing a new will so he'd get the bulk of Margaret's billion-dollar estate. Patrick was an influential, well-known and well-respected man. Jarryd knew that plenty of people would believe Patrick's words without a question, while there Jarryd was, a nobody who'd suddenly become a billionaire after the death of Margaret O'Neill—who'd never told anyone she had a living son she'd given up for adoption, much less that she'd found him.
He still couldn't believe the timing. He'd been succeeding at warding off his disquiet at Patrick's accusations by being in Marilyn's arms, when Marilyn had informed him that her parents were Barry and Alice Grant of Grant Ace.
He snickered dryly, remembering how he couldn't wait to ask Carl to find out if the Grants were acquainted with Patrick, and how he'd just stared into space for minutes when Carl's PI had informed him that Barry and Alice were being asked by Patrick to appear on several episodes of Biz Q&A.
He'd still made the right decision breaking up with Marilyn then, right?
Knowing what he knew then, yes. He'd assumed that the Grants and Patrick were well acquainted and he'd wanted to protect Marilyn and her parents from any negative publicity that could fall on them because of his conflict with Patrick.
But now he would have done things differently. He would have fully prepared himself for a let-her-down-gently breakup instead of refusing to think about it and only blurting out the words when he was already in front of her.
Now the coast was somewhat clear again, and he couldn't wait to smooth things out with her. But how would he start wooing her again after he'd used the wrong fucking words?
No spark between them.
Seriously, he was an idiot.
***End of Chapter One***
Hope you enjoyed that. Tomorrow, I'll share with you Chapter Two.
But before I go, remember that I mentioned I'll be running a giveaway exclusive to my newsletter subscribers? It's my way of showing how much I appreciate you being on my mailing list. Well, it's now started! Here's the link to giveaway page:
All you need to do is answer up to three very easy questions, with each answer giving you one entry point. You can even browse my website to help you answer two of the questions, specifically this webpage: Books by Miranda
First Prize: One winner will win signed copies of books 1 to 6 of the Captured by Love series (The Unwilling Executive, The Unyielding Bachelor, The Undercover Playboy, The Unintended Fiancé, The Unforgettable Ex, The Unknown Billionaire)
Second Prize: Two winners will win a signed copy of The Unknown Billionaire
I can't wait to see your answers, and I can't wait to send out the prizes to the winners!
Here again is the link to the giveaway: Exclusive Newsletter Giveaway
Good luck! And don't forget to check your inbox for Chapter Two of The Unknown Billionaire tomorrow!
Till then, take care.
Love,
Miranda xoxo