Order the paperback from: Amazon | Barnes & Noble | Book Depository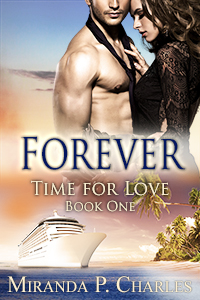 Rebecca Andrews knows she is lucky to be hired as a private nurse for an elderly lady who is going on a one-month trip aboard a luxury cruise ship. But there's one big problem. The client is the grandmother of her ex-boyfriend–the guy she is still in love with, the guy who doesn't love her back.
Zach Carmichael can't say no to his grandmother's plea to join her on a month-long cruise for her eightieth birthday. But he doesn't expect his spritely gran to bring two private nurses with her. One of them happens to be the woman who has broken his heart–the one he believes lied to him about her feelings.
Aboard a luxury liner, their passion for each other flares again. Is it just a temporary flame brought about by the romance of being on a cruise? How can they give love another chance when they're both afraid to put their hearts back on the line?
(This book is for adults only. It contains hot sexual content.)
*****
Each book in the Time for Love series is a strong stand-alone novel that would give you enjoyment on its own. To fully enjoy the series, however, I recommend reading them in order.
Book 1: Forever (Rebecca Andrews and Zach Carmichael)
Book 2: Finally (Sarah Daley and Jeff Carmichael)
Book 3: Again (Amanda Payne and Connor Reid)
Book 4: Always (Brenna Ward and Ash Payne)
Book 5: At Last (Gemma Aldwyn and Greg Carmichael)
Order the paperback from: Amazon | Barnes & Noble | Book Depository