Secret Words is currently

FREE

from the following stores!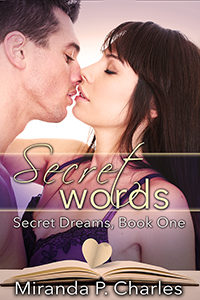 When Jasmine Allen meets Kane Summers in the unlikeliest of places, she isn't expecting the swift and immediate attraction she feels for him. But Jasmine has a secret she isn't at all comfortable sharing with anyone, least of all, the hunky guy who is literally sweeping her off her feet.
Kane Summers is a sucker for damsels in distress. When he finds himself wanting to protect Jasmine Allen in more ways than one, the instant chemistry they have for each other hits him squarely in the chest. But Kane's life is complicated, and he isn't totally free to act on the fascination he feels for her.
Kane and Jasmine are fighting a losing battle to stay away from each other. But circumstances — and certain people — beyond their control are very much intent on keeping them apart. How can they find their way past secrets and malicious intents to nurture a love that, if given the chance, could last a lifetime?
(This book is for adults only. It contains hot sexual content.)
*****
Each book in the Secret Dreams series is a complete stand-alone novel that would give you enjoyment on its own. However, to enhance your experience of this series, I recommend reading them in order.
Secret Dreams Series
Book 1: Secret Words (Jasmine Allen and Kane Summers)
Book 2: Secret Designs  (Ari Mitchell and Dylan Summers)
Book 3: Secret Moves  (Kristen McCann and Trey Andrews)
Book 4: Secret Tastes (Samantha Lane and Adam Craig)
Order the paperback from: Amazon | Barnes & Noble | Book Depository