Less than a week to go before the official release date of The Unintended Fiancé! Yes, it will definitely be available on October 22nd and I can't wait to share Brad and Erin's love story with you.
No need to wait for Chapter One, though, because you can read it right now. Here it is!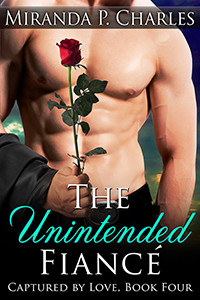 The Unintended Fiancé: Chapter One
Asking the hunkiest guy she knew to share her apartment was the height of bad ideas. At least, that was the message Erin Baker was getting from the you've-lost-your-mind stare her best friend Lexie Mead was giving her.
"Relax, Lex. I don't have a problem with Brad taking over my spare room," she said, looking around furtively. Not that she had anything to hide, but she'd rather the other guests who were present at the engagement party of their friends Cassie Stephens and Carter Garrett didn't overhear this particular conversation.
While no one seemed to be drunk on alcohol, the lunchtime chatter was loud and filled with laughter. No doubt people were intoxicated from the combination of gourmet food, the glorious sunny spring day and the awe-inspiring view of Sydney Harbour from the expansive outdoor entertaining deck of the party's hosts, their buddies Lucas and Jade Renner-Bilton.
"But you didn't even think before you made the offer to Brad," Lexie said. "It was so off the cuff!"
Erin gave Lexie a patient pat on the arm as she glanced at Lexie's thirty-one-year-old older brother. Even though Brad's dark brown hair needed a trim, and his gorgeous caramel eyes were hidden behind his dark sunglasses, a one-second look at his face would make even a complete stranger agree that he was blessed with chiselled good looks. And that was without checking out the rest of him, which was undoubtedly hot, even with clothes on.
Bradley Mead was one fine specimen of a man. That was the plain and simple truth, not some declaration born out of infatuation.
"Who better to be my next flatmate than your brother?" she said to Lexie.
"Because I know you still think that Brad is one of the best-looking guys in existence," Lexie said dryly. "Couple that with the fact that Brad can charm the skirts off women without even trying."
"Excuse me. You think I'll let him charm my skirt off me? Brad being gorgeous is a matter of fact, Lex. Put it this way—if I said that Rick is average looking, would you agree with me?"
Lexie looked at her future husband and smiled. "No. My Rick is absolutely hot."
"And I agree," Erin said with a laugh. "But me thinking that doesn't mean I have any designs on Rick."
"But you used to have a serious crush on Brad," Lexie argued.
She rolled her eyes. "Geez, Lex. That was eight years ago, when I was a young and naive teenager. I've been over him for ages. I can't believe you're worrying about this."
"I just don't want you and Brad to mess up the friendship you've built over the years. Everyone knows what a charmer he can be. That's why it's easy for women to fall for him and get their hearts broken even if he doesn't mean to hurt them. Since no one has ever told him how you used to feel about him, he might not hold back on his flirtatious ways, and you might… you know… have a relapse, or something."
"Look, I might still be a great admirer of Brad's male physique, but that's just like appreciating art in a museum. I'm happy to look but have no desire whatsoever to acquire it. I'm immune to Brad's charms, Lex, and have been for a long time. Promise."
Lexie sighed in resignation. "Fine. As long as you know what you're getting into. And don't forget that he's used to having a cleaning lady come in and tidy up his place. He might forget to do his fair share of housework."
"Don't worry. I won't let him get away with it," she said with a chuckle.
"Hey, guys," Marilyn Grant, a gorgeous friend who loved hosting charity events, called from the table next to theirs. "Who will you be betting on for our next round of the Captured by Love game?"
"I'm betting on my son," Lexie and Brad's mother said. "Underneath that workaholic exterior is a man crying out for his other half. He just doesn't know it yet."
Erin joined the others in laughing out loud at Vivian's declaration.
"How much are you betting, Mum?" Brad asked. "I hope you don't end up in debt after this, because I'm telling you, I have no intentions of settling down for a few years yet."
Vivian shook her head in disappointment.
"I think I'll bet on Gavin," Erin said, grinning at Carter's best friend, whom she'd just recently met.
"Wait," Gavin Redford said, his brow furrowing. "I still don't fully understand this game. Like Brad, I have no desire to settle down yet."
"The way it works," Marilyn explained, "is if you fall in love and renounce the single life before any of the other bachelors in the game, then Erin will win. Those who didn't bet on you will hand the amount they've pledged over to Erin's selected charity."
"I see," Gavin said. "So, Erin, does this mean you'll be hounding me into proposing to a girl or something?"
Erin laughed. "Marilyn has been known to pressure Simon, who she's bet on twice before, but I take the let-love-do-it's-work approach. I might give you a tiny bit of encouragement if I see you interested in someone, but definitely no pressure."
"Lucky you, Gavin," Brad muttered, casting a resigned look at his mother.
Gavin chuckled. "Hey, you could help Vivian win, Erin. Since Brad's moving in with you, you have the perfect opportunity to push him towards a girl—"
"What?" Vivian interrupted, her eyes wide. "Brad is moving in with you, Erin?"
"Yes, Vivian," Erin answered with a smile. "As you know, he's been slack in finding a place to live while his new house gets built."
"Oh, isn't that wonderful?" Vivian said, clasping her hands in glee.
"Don't get any funny ideas, Mother," Brad said. "I've decided to share with Erin because her apartment is close to my office. It's very convenient for me."
"I'm not thinking anything," Vivian said with a dismissive flick of her wrist. "I just think it's wonderful of Erin to allow you to share her home, that's all."
Erin smiled wryly at Lexie, who rolled her eyes.
Years ago, when Erin had cried upon learning that Brad had started dating a popular teenage pop star, Vivian had comforted her. Brad's mother had said that since she was only nineteen, she had plenty of time to find her Mr. Right, and chances were it wouldn't be Brad.
Well, she was yet to meet The One, but Vivian had been right about one thing. It wouldn't be Brad. It couldn't be. Once she'd realised that Brad constantly moved from one girl to the next, her crush for him had dissipated. She preferred guys who valued relationships, not playboys. Now, she saw him as just a very good friend who happened to be extremely attractive.
"Someone's phone keeps on ringing," Jade called out from the open French doors, holding up a black handbag.
"Oh, it's mine," Erin said, taking the bag from Jade. She fished out the device and groaned as she saw the name flashing on the screen.
Paula.
"Is that Kevin's wife?" Lexie demanded in a whisper. "Why the hell is your ex-boyfriend's wife calling you?"
"You won't believe this," she said dryly, "but ever since she learned I work for the same company that recently hired Kevin, she wants to be my friend."
"No," Lexie said, her eyes rounding.
"Yup," she said before hitting the answer button to talk to the woman that Kevin had married—before breaking up with Erin.
"Hi, Paula," she greeted, that surreal feeling creeping up again just like it had last week when Paula had called her out of the blue. Paula had wanted the two of them to be on good terms since Kevin would be starting work as an account manager at JMR Market Research, where Erin was a senior qualitative analyst.
"Hello, Erin," Paula said, her tone overly friendly. "I plan to have lunch with Kevin tomorrow on his first day at JMR. Do you want to join us so we can meet in person?"
"Uh, sure, that would be nice," she answered. Frankly, she'd rather not socialise with her ex and his wife. But she could understand Paula's agenda. The woman wanted to make sure that she didn't have anything to worry about, and Erin respected the way she was going about it. Besides, what better way to prove to everyone—to Paula and Kevin, especially—that she'd moved on?
"Great! I'll see you tomorrow, then."
"See you."
Erin leaned towards Lexie. "She wants me to join her and Kevin for lunch tomorrow."
"You know what that means," Lexie said. "She wants to keep you close so she can keep an eye on you."
"She shouldn't be so concerned. Why would I want Kevin back, when he cheated on me with her?"
"Are you really okay working with Kevin, especially since you'll be on the same team?" Lexie asked worriedly.
"Yes," she said with conviction. "He means nothing to me anymore. It might feel uncomfortable for the first few days, but he's not worth getting upset about."
It was a pity her boss hadn't realised that the Kevin he'd hired was the same Kevin who'd broken her heart fourteen months ago—the man who hadn't had the decency to break up with her first before getting married to someone else during his trip to Europe with his buddies.
Apparently, Kevin had met Paula on the very first day he had landed in Spain and had decided to marry her six weeks later, just before he had to return to Australia. Unfortunately, Kevin had only deigned to tell Erin they were over when he'd come back to Sydney, with his new wife in tow.
Anger and hurt bubbled up inside Erin at the memory, but the emotions were only dull. She'd made her peace with Kevin's actions months ago, after forcing herself to look for the silver lining.
Her relationship with Kevin hadn't exactly been what she'd hoped for. They'd simply been plodding along, not exactly fighting, but not also sharing anything deep enough that was capable of strengthening their emotional bond. They'd never discussed their future as a couple, and had never felt the motivation to do so.
She'd come to realise that the only reason she'd been willing to stay with Kevin was because she hadn't wanted another failed relationship after her past two had crumbled just after the second year anniversaries. Ironically, this particular one ended just after the two-year-mark as well.
Her phone started ringing again. Ugh!
"You're kidding, right?" Lexie said, spying Kevin's name on the screen.
"I better see what he wants," she said, getting up from her seat to go inside the house for more privacy.
"Hello, Kevin," she said in a distant but polite voice.
"Hi, Erin," the man said in a too-bright tone. "How are you?"
"Well, thanks. You?"
"Good, thank you."
"I'm looking forward to tomorrow," Kevin said.
"You mean to our lunch with your wife?" she asked innocently.
"What lunch?"
Her brows lifted. "You don't know? Paula just rang to invite me to have lunch with the two of you tomorrow."
"I didn't know that," Kevin said after a pause. "I'm sorry about that, Erin. I'll talk to her and tell her you're not—"
"It's okay, Kevin," she interrupted. "I don't want your wife worrying that there's still something between us."
"But… it would be so weird."
"Yes, it would be. But I don't want her getting suspicious or anything. She's nice enough to approach this in a friendly manner."
Kevin sighed. "Fine."
"Good."
"Hey, can I ask you something?"
"Sure."
"I'm just curious… why haven't you had a boyfriend since we split up?" Kevin asked.
She huffed in disbelief at his question. "Why do you want to know?"
"I was just wondering. A mutual friend has confirmed you haven't seriously dated since we broke up."
"Which friend?" she asked with annoyance. Yes, it was true there hadn't been anyone special since Kevin. But frankly, she wasn't in any hurry to get another boyfriend. After her experience with him, she'd decided to be a bit pickier when it came to men.
"I just want to know, Erin."
"I don't see why we have to talk about this, Kevin. Anyway, I have to go. I'm at a party."
"Okay," Kevin said softly. "I know it's hard to get over someone you've loved for two years. I'll see you tomorrow. Bye."
Wha-at?
Erin stared at her phone after Kevin had hung up, her jaw hitting the floor. Had that man just insinuated she wasn't over him? How rude!
"Everything okay, Erin?"
She glanced up and blinked fast, her irritated mood mellowing from the sight before her.
Brad was standing by the threshold, his muscular form apparent from his slim-fit button-up shirt, his handsome face frowning at her with concern.
Yes, Brad was still the best-looking person she knew. And she'd be seeing him every day for at least seven months after he moved in to her apartment.
She smiled. That would more than make up for having to face Kevin every single working day.
Brad might only be a friend, but he was still her favourite eye candy.
*****
Brad cocked his head to the side, Erin's pretty smile tempering the surge of protectiveness that had hit him at hearing her mention the name Kevin. After how Kevin had broken Erin's heart, the man had become a persona non grata in their circle.
"Was that your idiot ex you were talking to?" he asked mildly, an image of Erin's distraught face from over a year ago, when she'd told them what Kevin had done, playing in his mind.
"Yes," Erin answered, rolling those beautiful hazel eyes of hers.
"So why is he calling you?"
"He's starting work at JMR tomorrow."
"You're kidding," he said in disbelief.
"I wish I was."
"You okay about it?"
Erin shrugged. "I'm not ecstatic that I'll be working alongside him, but I can handle it. Although I think he thinks I'm still not over him," she added with a frown.
"Why?"
"Well, he said he knew I hadn't had a serious relationship after I broke up with him. Then he said it's hard to get over someone you've loved for two years. I'm insulted. What does he take me for? Stupid?" she asked, flicking her lustrous chocolate-coloured hair in annoyance.
"That proves he's still the biggest idiot," he said.
"And the last thing I want is for his wife to think that I'm still holding a torch for him," Erin said. "Do you know that Paula wants to be friends with me?"
"Erin?" Lexie interrupted, walking into the house. "What did he say?"
Erin told her friend.
"How dare he!" Lexie exclaimed. "That Kevin is really so full of himself!"
"I know, right?" Erin said. "What on earth did I ever see in the man that I dated him for two years? I still can't believe I'd been so blind for that long."
"If I were you, I'd tell both him and Paula a white lie and say you're dating someone," Lexie said. "That should lessen whatever jealousy Paula's feeling and stop Kevin from being so presumptuous."
Brad looked on, intrigued by the conversation happening between the women. And with Erin's face taking on a Eureka! look, it was clear she liked Lexie's suggestion.
A thought gave him a jolt, making him stand up straighter. And it was the perfect idea. It would serve him and Erin equally.
"I think you're right, Lex," Erin was saying. "I'll tell them I'm going out with someone."
Lexie nodded sagely.
"If that's the case," Brad said, a wide smile forming on his face as his perfect idea took hold. "I have a proposition to make."
"What?" Erin asked.
"How about we pretend to be going out? I'm looking for a fake girlfriend, so this is great timing."
The two women widened their eyes at him.
"Why?" Lexie asked.
"I'm after this contract to provide commercial interior design services for a new complex being developed on an old industrial site in western Sydney. It's a big project, including a residential high-rise and several low-level buildings. But I just found out that James Coyte, the CEO of the corporation that owns the complex, just got married three weeks ago."
"And why's that a problem for you?"
"Well, his new wife Valerie happens to be someone I went out with a few times. Unfortunately, when I attended an industry function last week, I bumped into Valerie. I didn't know then that she just got married. She flirted with me outrageously and I flirted back. And of course, James Coyte saw and gave me the coldest look as he escorted his wife away."
"You had to flirt back, didn't you?" Lexie said dryly.
"I was just being friendly. Just three months ago, Valerie was still calling me, wanting to hook up again. Apparently she and James got married after dating for only five weeks. How was I supposed to know she wasn't single anymore?"
"Oh, Brad," Lexie said with a shake of her head. "The women you go out with."
"Hey, I stopped entertaining her calls a long time ago when I figured out she was a gold digger. Obviously, James has no clue what his wife's really like. But that's his problem, not mine. My problem is that James might have put my firm out of contention because of a rumour that has started to go around."
"What rumour?" Erin asked.
"Apparently, there are whispers that I'm still keen on Valerie. I'm not surprised someone's out to hurt my chances of winning the contract. This business is as cut-throat as anything, and I wouldn't be surprised if it was Warren Oliver who started it. He'll do anything—"
"Wait a minute," Lexie interrupted. "Warren Oliver, who used to be your biggest rival in school, and is now your fiercest competitor in business, is going for the same contract? What are the odds, huh?" she added sarcastically.
He sniggered. Everyone close to him knew the competition that had been going on between him and Warren for many years. These days, they battled against each other for multimillion-dollar projects instead of the top marks in class and the hottest cheerleaders.
Their rivalry had been friendly and polite in the past. But three years ago, when Warren had won a contract they'd both competed for, their relationship had escalated to enemy level.
Brad's firm had been the frontrunner for that project, but ultimately hadn't been awarded the deal because of whispers that his company was having cash flow problems. Brad had no doubt that the false rumours had been started by Warren. No one else had a powerful enough motive to make him lose out on the contract since their respective firms had been the only two that had made the final round of consideration. And it hadn't been the first time Warren had tried to trip him during a race to get to the finish line first. Unfortunately, he had no concrete evidence to prove his suspicions that the rumours were all Warren's doing.
"I can't believe you're still locking horns with that guy," Erin said teasingly. "In almost everything."
"And I'm not letting him win this contract," he said with determination. This new job was, by far, the most lucrative and prestigious he'd ever gone after. No way he'd hand this one to Warren's firm. No fucking way.
"So what do you say, Erin?" he asked with a wink. "Would you be my fake girlfriend?"
"What exactly does that position entail?" she asked.
"It means going out with me to dinners and industry functions so relevant people will see us together as a couple. That should stop rumours of me wanting to have an affair with James Coyte's wife."
"And will you pick me up at work so Kevin and Paula can see I'm not single anymore?"
"However you want me to act around them, I'd be more than happy to comply."
Lexie sighed loudly, her disapproval apparent. "Why don't the two of you just find yourselves real dates instead of getting into this fake relationship thing with each other?"
"You know my workaholism doesn't go well with real dates, sis," he quipped. With past girlfriends having accused him of being married to his company, he'd learned to stay away from relationships.
"You know what, Brad? You have a deal," Erin said, holding her hand out for a shake.
"Deal," he said with a wide smile, grasping her hand and squeezing it.
Excellent. Erin was the best fake girlfriend he could hope for. Truth be told, she was absolutely freaking gorgeous. Not only that, she was caring and sweet, and she could hold intelligent conversations with anyone. She'd be great when they had to hobnob with potential clients.
Pity this was a no-sex arrangement. If there was anyone among his friends that he'd love to take to his bed, it was Erin. But he cared too much about their friendship to mess around with her. Plus, he truly didn't have any interest in being in a romantic relationship with anyone.
His firm was growing at a phenomenal rate and he wasn't ready to take his foot off the accelerator. While he'd achieved so much in the last few years, including winning industry awards and prestigious contracts, he was still far from his loftier goal: taking Mead Commercial and Corporate Designs worldwide—and doing it before Warren Oliver's firm did.
He simply didn't have time for a relationship. He'd decided long ago to not be in one until… well, he didn't know when. One thing was for sure, it wouldn't be in the foreseeable future. Having a casual shag whenever he wanted one suited him far better than dealing with a partner who'd ask for more than he could give. And Erin most definitely wasn't a casual-shag type of person.
Yes, that was a real pity.
***End of Chapter One***
Hope you enjoyed that. I'll share Chapter Two with you tomorrow.
The Unintended Fiancé can be pre-ordered from the following stores:
Amazon US | Other Amazon stores | Apple iBooks | Barnes & Noble | Kobo
It will be available on Google Play, All Romance Ebooks and Smashwords on October 22nd.
That's all for today. More tomorrow 🙂
Much love,
Miranda xxx